Crazy Cream Cheese Cookie Bars are a little over the top, but if you like the idea of Magic Cookie Bars combined with cheesecake, they're worth a try. I was going for really tall Magic Cookie Bars, so rather than just pour on the Eagle Brand to hold all the chips together, I mixed it with cream cheese, egg and vanilla to make a cheesecake batter that would bake into a cheesecake matrix.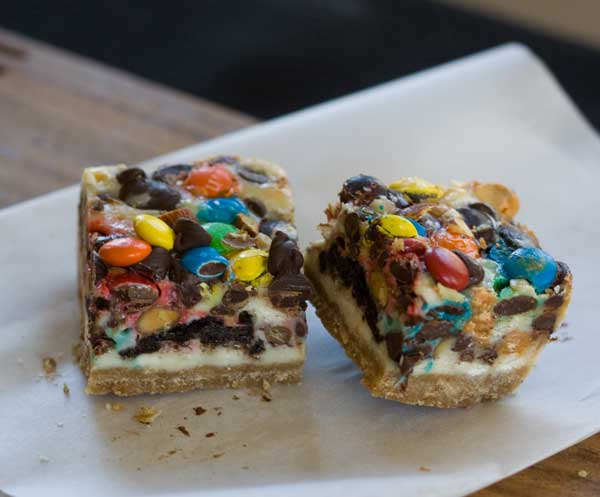 The layer of Oreos added a little height and helped cut the sweetness, but you could probably swap them out for another type of cookie or even a layer of brownie. I'm still playing around with this recipe and making variations, but I'm sure you have your own ideas of what you could do with it!

Crazy Cream Cheese Cookie Bars
Tall bar cookies with a thick graham crust and a topping of assorted chips and cookies held together by a cheesecake batter.
Ingredients
Crust
1 1/2 cups graham cracker crumbs
1/4 cup light brown sugar
1/4 cup all-purpose flour
1 stick (4 ounces) unsalted butter, melted
Pinch of salt
Filling
1 cup (2/3 of a can or 260 grams) of condensed milk
8 oz cream cheese, softened
1 large egg
1 teaspoon of vanilla extract
1 cup white chips
1 cup or more miniature Oreos
½ cup coarsely chopped nuts
2 cups assorted chocolate chips and candies (I used chocolate, butterscotch and M&Ms)
Instructions
Preheat oven to 350 degrees F. Line a 9 inch square metal pan with foil and spray with cooking spray.
In a large mixing bowl, combine the crumbs, sugar, flour and melted butter. Stir well. Press into pan and bake for 10 minutes. Let the crust cool completely.
Mix the condensed milk and cream cheese together in a bowl until smooth. Stir in the egg and vanilla. Drizzle a thin layer of this cream cheese mixture over the cooled graham cracker crust, then sprinkle a layer of white chips evenly over cream cheese mixture. Arrange an even layer of mini Oreos over the white chips, then drizzle more cream cheese mixture over the Oreos.
Mix together nuts and remaining chips/candy (set a big handful aside for garnish) and arrange over the Oreos. Pour a final layer of cream cheese mixture over the top, letting it kind of sink down into the cracks between the chips.
Bake for 25 minutes or until cream cheese mixture appears stable. It should still be soft, though. It will firm as it cools and chills, so don't be tempted to keep baking it. Remove from oven and sprinkle M&Ms and/or more chips over the top to garnish. Let cool completely and chill until very cold and firm. Lift from pan and cut into big, thick squares.
Notes
If the idea of having a partial can of condensed milk drives you crazy, you can try adding it all. However, the bars will be sweeter, and they are pretty sweet as is. I've been making the bars in a 9x9 inch square pan, but if you have loads of chocolate chips and want to make a 9x13 inch pan, try the following measurements. 2 1/4 cups graham cracker crumbs 6 T. light brown sugar 6 T. all-purpose flour 12 T. (6 oz) unsalted butter, melted 1/4 teaspoon salt Filling 14 ounces (1 can) of condensed milk 12 oz cream cheese, softened 1 large egg plus 2 tablespoons beaten egg 1 1/2 teaspoon of vanilla extract 1 1/2 cups white chips 1 1/2 cups or more miniature Oreos (approximate, maybe less) 3/4 cup coarsely chopped nuts 3 cups assorted chocolate chips and M&Ms (maybe less)
Related posts: