I finally got the front brakes on my car fixed, so to celebrate I made the White Lily's Celebration Coconut  Cake.  Hooray!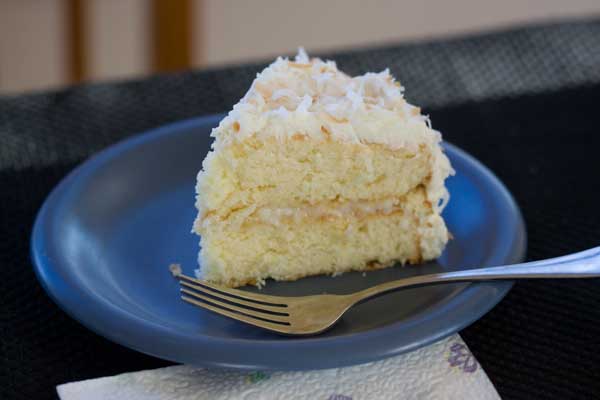 Okay, so it wasn't much of a celebratory occasion, but this was a terrific cake and a nice way to use some of the 10 pounds of White Lily flour I bought a few weeks ago.   The recipe was easy to throw together and had a great frosting/filling.  It's the kind where you just mix together sour cream, sugar and coconut, then fold in a little whipped cream.  The flavor combo is sublime (a word I would never use in conversation, but which fits here) and the cake
Since I wasn't making this for a large group, I halved the recipe and baked it two 8 inch pans instead of three 9 inch pans. No issues! I went a little rogue with the frosting. Instead of just halving it, I only halved the sour cream/sugar/coconut mixture and used the full amount of unsweetened whipping cream. This made just enough to fill the one layer and cover the entire cake with frosting.  That's pretty much all I have to say about this cake other than I'm glad I made half so that we can eat this and I can move on to the next White Lily recipe.  I need to make some biscuits….

White Lily Celebration Coconut Cake -- Small
White Lily Celebration Coconut Cake Small Version
Ingredients
Cake
1 1/2 cups (6 ounces) White Lily® Enriched Bleached All Purpose Flour
1 teaspoon baking powder
1/4 teaspoon plus a pinch salt (omit if using salted butter)
1/2 cup (4 oz) unsalted butter, softened
1 cup sugar
2 large eggs, room temperature
1/2 cup whole milk, room temperature
1 teaspoon vanilla extract
Filling/Frosting
3/4 cup sugar
1/2 cup sour cream
1 cup sweetened flaked coconut, loosely packed
3/4 cup heavy cream, whipped
More (about ½ cup) sweetened flaked coconut for garnish.
Instructions
Preheat oven to 350º F. Spray two 8 inch round metal pans with flour-added cooking spray.
Mix the flour, baking powder and salt together in a bowl and set aside.
Beat the butter with an electric mixer on medium until light and fluffy. Gradually add sugar, continue mixing until very light. Add eggs, one at a time, beating one minute after each addition. Stir 1/3 of flour mixture into egg mixture until blended. Stir in 1/4 cup of milk until blended and repeat, ending with the remaining flour. Stir in vanilla extract.
Divide batter evenly among pans. Bake 20 to 25 minutes (mine took the full 25), or until toothpick inserted in the center comes out clean. Cool on wire rack 10 minutes before removing from pans. Cool completely.
Filling: Stir sugar, sour cream and 1 cup of coconut together. Spread some of this mixture on the cake, leaving behind about a cup – I just eyeballed it.
Frosting: Fold the reserved cup (or so) of sour cream mixture into the whipped cream. Spread all over the cake and put it in the refrigerator.
Lay the remaining coconut on a f oil lined baking sheet and bake at 350 for about 6 minutes or until edges are browned. Toss it all together so that the coconut is tan and white. Let it cool, then slap it all over the cake.
Chill the cake for at least one hour or until ready to use.
Related posts: