White Chocolate Raspberry Cheesecake was everywhere ten years ago, but the place I mostly remember eating it was at the bookstore coffee shop where it would either be stellar or stale depending on the time of day or from whom they ordered it. At some point I guess I had too many stale pieces because I eventually got tired of ordering it and forgot about it altogether. This week I was thinking about the good slices and wondering if I could make it at home. Well, of course! The question was, would it be as good as the coffee shop's version?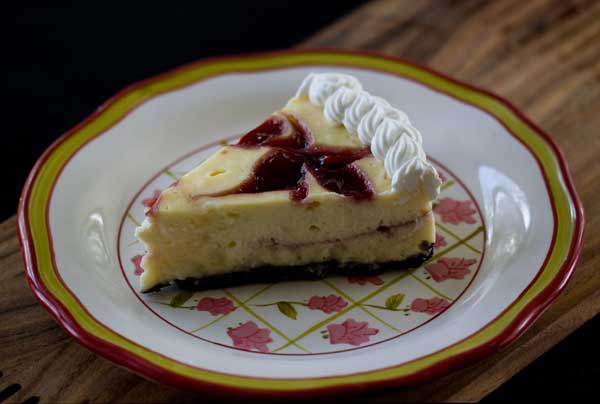 To get started I looked at dozens of recipes and found three top contenders. There was one from Taste of Home via Country Woman. Another from allrecipes.com and one I saw in a lot of books and sites that had an extra two egg yolks. I knew that for whichever recipe I used, I would change it by putting it on an Oreo crust; and I was also determined to use a water bath to help keep the cake creamy and smooth. The Taste of Home Cheesecake already called for the water bath, so I decided to try it first with a couple of changes. I cut the sugar somewhat, used the lesser amount of white chocolate chips, and put the whole thing on an Oreo crust as planned. The cheesecake was on the sweet side, but very tasty! I also found it interesting that this recipe calls for whole white chips rather than melted chips. What happens is that some of them melt into the cake giving it white chocolate flavor and stability, while others stay in chunks.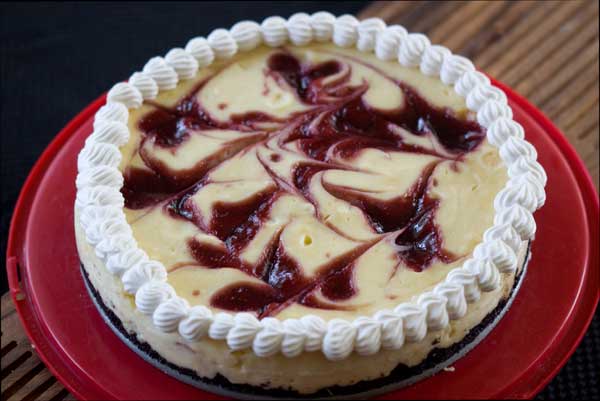 So we liked this recipe overall. I'm probably going to try another one for comparison's sake, but if you're in the mood for a good cheesecake, this is an excellent choice.
Update: So far everyone really likes this and no one thinks it's too sweet.

White Chocolate Raspberry Cheesecake
White Chocolate Raspberry Cheesecake
Ingredients
CRUST:
2 cups crushed Oreos (about 24)
1 tablespoon sugar (optional -- didn't really need it)
4 tablespoons butter, melted
FILLING:
3 packages (8 ounces each) cream cheese, softened
2/3 scant cup sugar
1/3 cup sour cream, at room temperature
3 large eggs, lightly beaten and at room temperature
3 tablespoons all-purpose flour
1 teaspoon vanilla extract
1 1/2 cups white chips (I used Nestle)
1/2 cup raspberry preserves, softened in microwave**
Sweetened whipped cream for garnishing
Instructions
Preheat the oven to 325 degrees F. Spray a 9 inch round springform pan with cooking spray.
In a mixing bowl or in the food processor, combine the cookie crumbs, sugar and butter. Press onto the bottom of the pan. Set the pan on a large sheet of foil and bring foil up and slightly over the sides. Repeat with another sheet of foil to make the pan leak-proof. You'll be putting it in water.
In a large bowl, beat cream cheese and sugar until smooth. Beat in the sour cream. Using lowest speed of mixer, gradually add eggs just until combined. Stir in flour and vanilla, then fold in the chips. Pour the batter over the crust.
Drop spoonfuls of raspberry preserves over the top and run a knife through to make swirls. I
Place in a large roasting pan and add hot water to the roasting pan so that it comes up 1 inch up the sides of the springform pan.
Bake at 325° for 80-85 minutes or until center is just set. Cool on a wire rack for 10 minutes. Carefully run a knife around edge of pan to loosen; cool 1 hour longer. Cover and refrigerate overnight. Remove sides of pan and garnish with whipped cream.
Notes
The crust is delicious, but I think it would be fine without that added tablespoon of sugar. If you can't find seedless preserves (my store always runs out), soften the preserves and push them through a sieve. You can also had an extra layer of preserves by filling the batter halfway, dotting with preserves, and topping with more batter.
Related posts: