Today I'm giving away a copy of Julie Hession's new book, 175 Best Mini Pie Recipes: Sweet to Savory
. If you'd like a chance at a free copy (and this giveaway is for USA and Canada. Hooray!), read my review and leave a comment telling me your favorite type of pie. I will pick a winner this Saturday morning and notify the person that day. For now, here's my review of the book and Julie's Chocolate Mocha Pecan Tarts.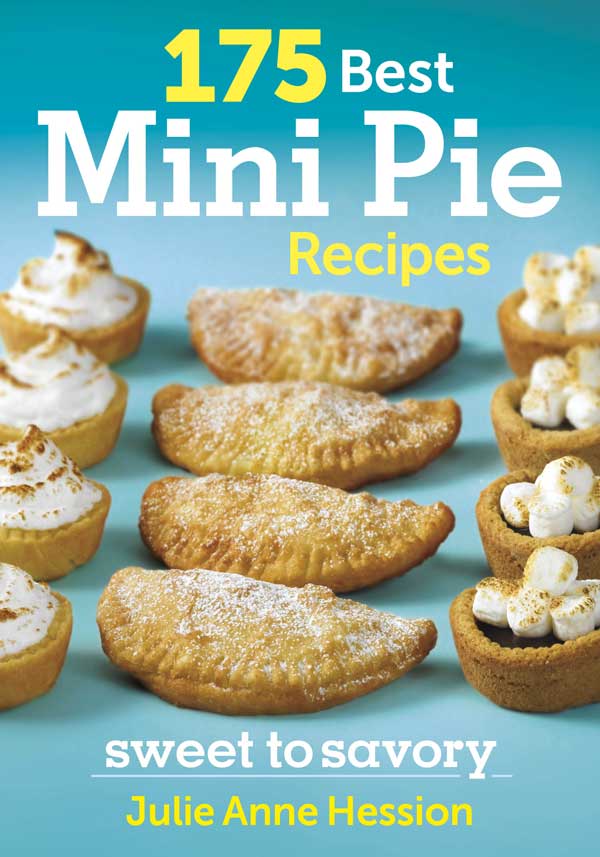 As much as I love cupcakes, I'd have to say that pie has a more venerable status. Unfortunately, it seems to have taken a backseat to cupcakes due to its lack of cuteness and portability. And that's where Julie's book comes in. 175 Best Mini Pie Recipes: Sweet to Savory
will show you all the creative and interesting ways to bake and serve pies in mini form.
175 Mini Pies has recipes that are sweet and savory. And while I don't serve savory pies for dinner very often (hardly ever, in fact), I can see myself making every single one of Julie's recipes for cocktail parties or gatherings with friends. And that includes Fuzz's friends, too. They're at an age where things like Moroccan Mini Pies (made with chickpeas), Chicken Brie and Apple Turnovers or Pork Empanadas with Salsa Verde are "sophisticated and exotic". I also think the girls might have fun making the pies as a weekend activity. As for the sweet pies, you could serve those those anytime; And with choices like Strawberry Basil Hand Pies, Frozen Chocolate Mint Grasshopper Pies or Chocolate Mocha Pecan Tarts, it's unlikely you'll be seeing duplicates at the next Teacher Appreciation or social event. You'll be on the cutting edge with your mini pies!
Seriously, the book is a lot of fun and the recipes are easier than I thought, despite the fact that you have to make a scratch dough and then tackle the filling. My advice for using this book is to make the dough ahead of time to get it out of the way, then assemble and bake when you're in the mood to have some real fun. Which leads me to today's recipe. I have bookmarked many pages in the book, but I just happened to have all the ingredients for these Chocolate Mocha Pecan Tarts which are little chocolate pecan pies with a chocolate pastry crust. Here's a photo of how the pies are supposed to look.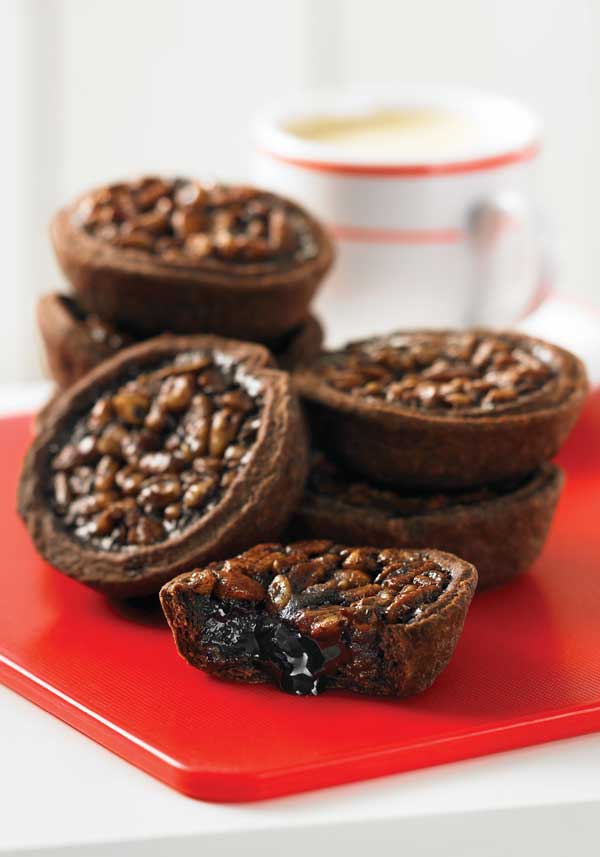 And here's a photo of mine.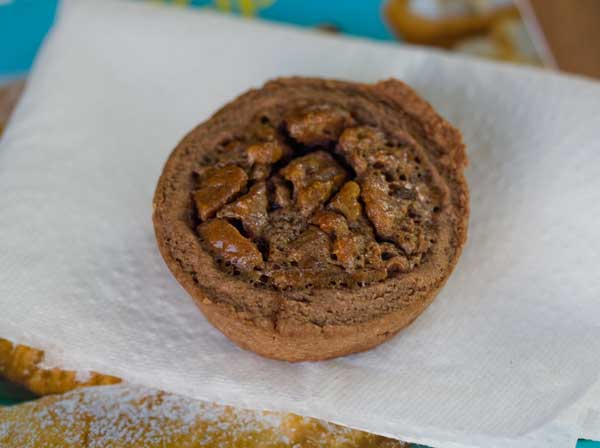 As someone with very limited decorating abilities, I had my doubts, but the book walked me through the steps and I thought my pies looked great! I can't wait to move on to the next recipes.
If you want to read more about Julie, here's a link to the Julie Hession web page. The publisher of this book is Robert Rose.
Chocolate Mocha Pecan Tarts
Just small amounts of cocoa and espresso powder transform already rich pecan pie into a darker, more deeply flavored and certainly more decadent treat. At any dessert table, these tarts are sure to disappear quickly.
Ingredients
Equipment
31⁄2-inch (8.75 cm) round cutter
Two 12-cup muffin tins, greased (I used Baker's Joy)
Crust
3 cups all-purpose flour 750 mL
6 tbsp unsweetened cocoa powder 90 mL
6 tbsp granulated sugar 90 mL
1⁄2 tsp salt 2 mL
8 oz cold unsalted butter, cubed 250 g
1⁄2 cup cold buttermilk (see Tips) 125 mL
1 large egg yolk
Filling
3 tbsp unsalted butter, melted 45 mL
3 tbsp unsweetened cocoa powder 45 mL
3 tbsp heavy or whipping (35%) cream 45 mL
2 tsp instant espresso powder 10 mL
3⁄4 cup light corn syrup 175 mL
3⁄4 cup granulated sugar 175 mL
3 large eggs 3
1 tbsp vanilla extract 15 mL
1⁄4 tsp salt 1 mL
11⁄4 cups chopped pecans 300 mL (I toasted mine first)
Instructions
In a food processor fitted with the metal blade, pulse flour, cocoa powder, sugar and salt to combine.
Scatter butter over top and pulse several times, until pieces are the size of peas.
In a small bowl, whisk together buttermilk and egg yolk.
Drizzle half the buttermilk mixture over flour mixture and pulse 4 to 5 times to combine. Add more of the mixture 1 tbsp (15 mL) at a time, pulsing after each addition, just until dough begins to hold together in moist clumps (you might not need all the mixture).
Transfer to a large piece of plastic wrap or a large bowl and shape into a ball. Flatten into a disk and wrap tightly in plastic. Refrigerate for at least 1 hour.
This dough can be a bit more crumbly than some of the others, so you may need to work it a bit more to make it pliable and easy to shape.
On a lightly floured surface, roll out dough to a thickness of 1⁄8 inch (3 mm). Using cutter, cut into rounds and fit into muffin cups. Reroll scraps as necessary.
Place tins in freezer for 30 minutes. Meanwhile, preheat oven to 350°F (180°C).
Filling: In a large bowl, whisk together butter, cocoa, cream and espresso powders until smooth. Add corn syrup, sugar, eggs, vanilla and salt, mixing until well combined. Stir in pecans.
Spoon filling into chilled shells until three-quarters full. Bake in center of preheated oven until filling is set, 22 to 27 minutes.
Cool pies completely in tins on wire racks for 15 minutes, then carefully remove from tins. Serve slightly warm or at room temperature.
Notes
Tips: For best results, always sift cocoa powder before adding it to recipes, to avoid scattered clumps of bitter cocoa flavor in your crust or pie filling. If you don't have buttermilk, substitute 1⁄2 cup (125 mL) cold milk mixed with 1 tsp (5 mL) white or cider vinegar. Set aside at room temperature for 5 minutes before using in recipe. Excerpted from 175 Best Mini Pie Recipes by Julie Anne Hession © 2013 Robert Rose Inc. www.robertrose.ca May not be reprinted without publisher permission.
Related posts: