I've added a new vanilla to the collection! This one is from the Camisoni family, who have been making pure extracts for over a hundred years. I wish I'd discovered them sooner because not only are their products wonderful, they make great gifts – especially for anyone with an affinity for Italian ingredients.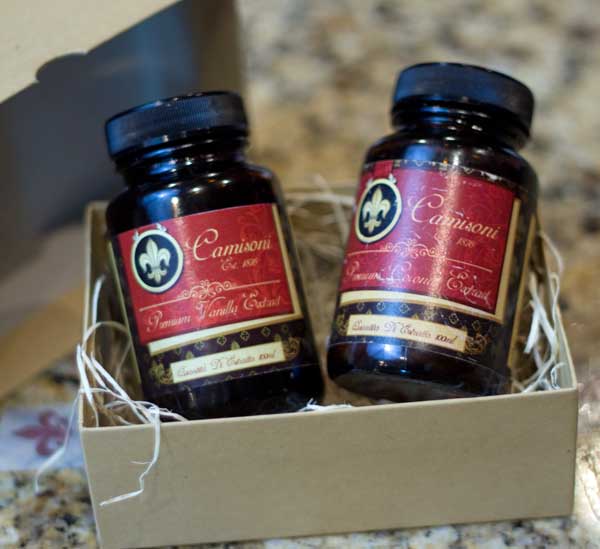 Before I get to the review, here's a brief history: Antonio Camisoni started selling extracts in 1876 in the town of Portofino. The business expanded throughout Italy until 1917, when Antonio passed the business onto his son and daughter, Cicero and Ella. They continued to grow the business, and by the 1950′s, Camisoni products were sold all over Europe. In the 1980′s, operations were moved to the USA. However, the extracts are still made and bottled in Italy right outside Portofino.
Along with their popular vanilla, Camisoni makes coffee, coconut, tea, grape, berry, mango and other pure extracts that are sure to add that special something to whatever it is you're making. Carmen at Camisoni sent me two flavors to sample, vanilla and coconut. She was confident I would like the coconut even though I told her I thought most coconut extracts tasted like suntan oil. I'm so glad she sent some even after I said that!
Camisoni's coconut extract was unlike any I've ever tasted. When I first opened it, it was warm from sitting in my mailbox and I almost mistook it for hazelnut because it had a nutty fragrance. Carmen told me to put in in the refrigerator to cool it off a little. After following her instructions, I opened it again. This time I detected a little of the nuttiness and got a nice whiff of coconut. It was nothing like supermarket coconut extract.
To see how it tasted in baked goods, I used it in some coconut cookies. As mentioned earlier, I'd been reluctant to put coconut extract in any cookie, but not anymore. The coconut cookies had a wonderful flavor. The shortening made them crisp and light.  And if you make these, I recommend using 1 teaspoon of coconut extract AND 1/2 teaspoon of almond.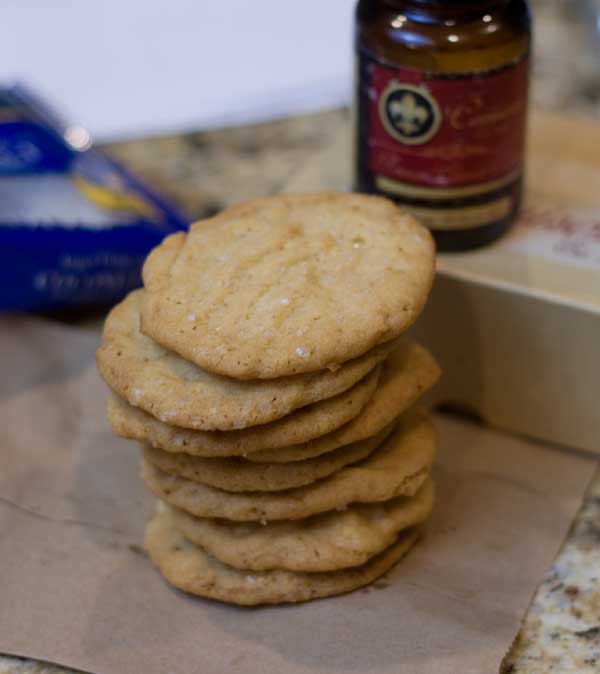 To sample the vanilla, I made a Millionaire Pie which calls for vanilla in the base and topping. As predicted, the vanilla gave the whipped cream a nice flavor that reminded me of good vanilla ice cream. It went so well with the pineapple.
I've included the recipe for the Millionaire Pie below. Also, Camisoni has some VERY tempting recipes on their site, and I'll be making their simple white cake this week, though I plan to try it in cupcake form so I can bake some and freeze the rest.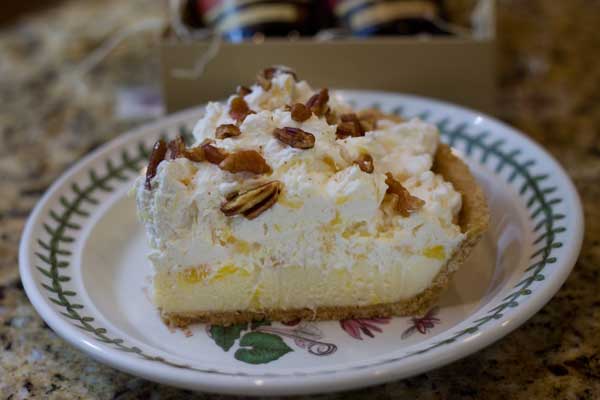 Camisoni Extracts (and Millionaire Pie)
An easy summery pie.
Ingredients
1 store bought pie crust (like a Keebler type)**
1 cup heavy whipping cream
1 teaspoon vanilla extract
3 tablespoons confectioners' sugar
2 8 oz cans crushed pineapple, drained as much as possible
4 ounces (1 stick) unsalted butter, softened
2 cups sifted confectioners' sugar
1 large egg, pasteurized
1/8 teaspoon of salt (only if using unsalted butter)
1/3 cup toasted and chopped pecans
Instructions
Prepare the crust as directed on the package and let cool.
Beat the whipping cream until soft peaks form. Beat in the vanilla and the sugar. Fold in the pineapple. Set aside.
In a second bowl, beat the butter and 2 cups confectioners' sugar until creamy. Beat in the vanilla, egg and salt.
Spread the butter mixture over bottom of the shell, then spread the pineapple mixture over the butter mixture.
Sprinkle top with toasted pecans.
Chill overnight.
Notes
If you plan on using a homemade crust in a standard 9 inch size pie shell, you can keep the butter/sugar mixture the same and increase the whipped cream/pineapple mixture by 1 1/2. As written, this works best in a smaller size pie shell such as the ones you find on the baking aisle.
Related posts: