I try to update Cookie Madness on an (almost) daily basis, but last week was an exception. I made everything a week ahead so we could unplug and take a real vacation. Our destination? A little town in New York where Fuzz had been at summer camp for the past couple of weeks. But rather than fly straight there, we took the scenic route: flying up to Ottawa, driving over to Montreal, then down through Albany and onto the camp which is near the Pennsylvania border.  After attending visiting days and packing up the girl, it was onto New York City where we made pilgrimages to some of our favorite bakeries, finally ate at Union Square Cafe, and visited with good friends before heading home to Texas. I've posted a few pictures on a new Cookie Madness Facebook page if you're interested. But for now, here's the first recipe I made using a souvenir — some pure maple syrup I picked up at Ottawa's Byward Market.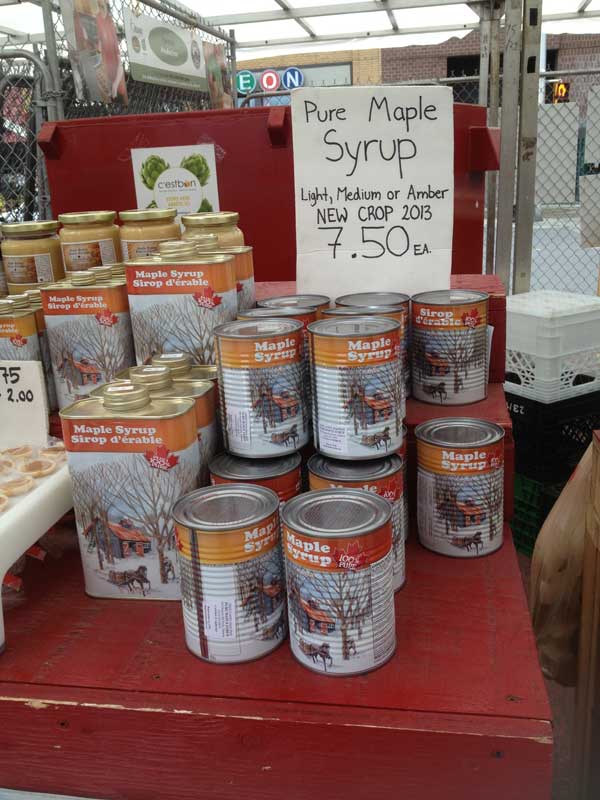 This recipe is adapted from Modern Maple by Teresa Marrone, published by the Minnesota Historical Society. The book has a few excellent desserts including one I can't wait to try for maple ice cream, but it also includes appetizers, entrees and sides that feature maple syrup. I mentioned it earlier when I made the incredible Maple-Cranberry Scones and I'll probably mention the book again because I can't stop baking from it.  As for these cereal treats, I think I liked them even better than the usual rice treats.  They sliced very neatly and cleanly and had a very subtle maple flavor.

Maple Rice Krispies Treats
Rice Krispies treats made with maple syrup.
Ingredients
6 cups Rice Krispies
4 tablespoons butter, salted
1/3 cup pure maple syrup
4 cups mini marshmallows
Instructions
Line a 9x13 inch pan with nonstick foil or parchment paper. Alternately, you can use regular foil and rub it generously with extra butter. Also have ready an extra sheet of nonstick foil or parchment.
Put the cereal in a large mixing bowl and set aside.Note: The original recipe instructs you to grease the bowl. I forgot to do this and didn't have any problems with sticking. It seems like a good idea, though.
In a large nonstick saucepan, melt the butter and maple syrup together, stirring constantly. Boil gently for two minutes over medium heat, stirring constantly. Reduce heat and boil for another 30 seconds.
Add the marshmallows and stir until melted, then pour mixture over the cereal and stir well.
Pour into the pan. Lay the extra nonstick foil sheet (or parchment or buttered foil) over the cereal mixture and press down firmly. Let cool completely.
Lift from pan and cut into squares or bars.
Notes
Adapted from Modern Maple (The Northern Plate) by Teresa Marrone (Author). Published by the Minnesota Historical Society
Related posts: