Happy Halloween!  Or almost, that is. Have you picked out your costume?  I can't help you with that, but I might be able to sweeten up your holiday breakfasts.  To encourage you to "bring back weekend holiday breakfasts", Hungry Jack is giving one reader a special treat!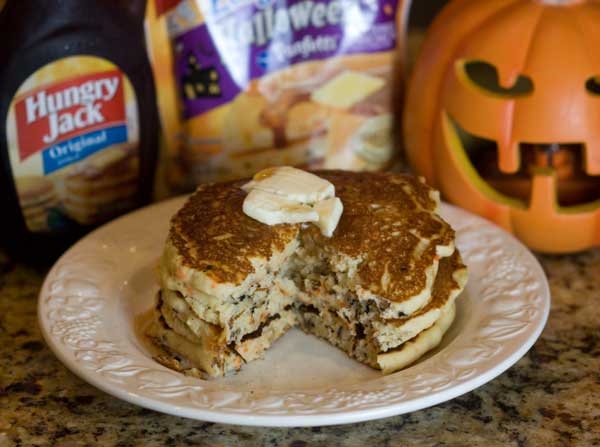 One USA based reader will receive the following:
— A Hungry Jack Breakfast Celebration Starter Kit which includes a variety of seasonal mixes
— $175 gift card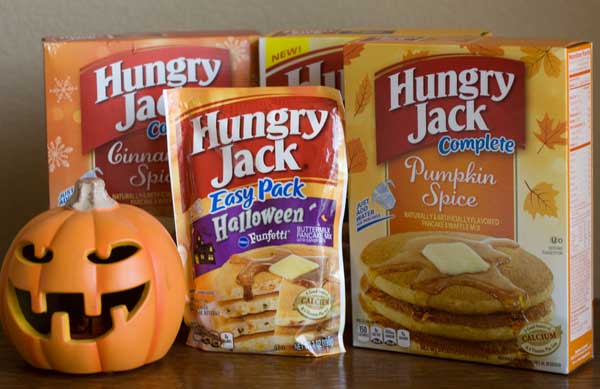 To enter the giveaway, leave a comment saying how you make holiday breakfasts special. Please submit your comment by November 5, because I will pick a comment on the morning of November 6. For a little motivation, here are three tips.
#1. Check the pancake mix aisle for the Funfetti holiday themed mixes. You'll  have to scramble for the Halloween Funfetti, but you have plenty of time to find the Holiday Funfetti Pancake Mix with green and red sprinkles. We loved the flavor and overall whimsicality of our Halloween pancakes, so I'm sure the green and red ones are just as fun.
#2. When you make your weekend pancakes, double or triple the batch and freeze the extras. I freeze pancakes by laying them on a parchment lined cookie sheet, covering loosely with plastic wrap and putting the tray in the freezer until the cakes are firm. When firm, I wrap them individually in stacks and then put the stacks in a freezer bag.  Frozen pancakes can be warmed up and served in seconds during the week.
#3. Don't limit pancake mix to pancakes. One thing I've learned from being part of the "Bring Back Breakfast Brigade" is that there are tons of interesting things you can make with pancake mix. The pancake mix coffee cake from a few weeks ago was delicious, as were the pumpkin scones I made by substituting pumpkin spice flavored mix for the chocolate chip flavored mix in these scones.  And then there was the Easy Pumpkin Roll.  Wow! This could be served as breakfast or dessert.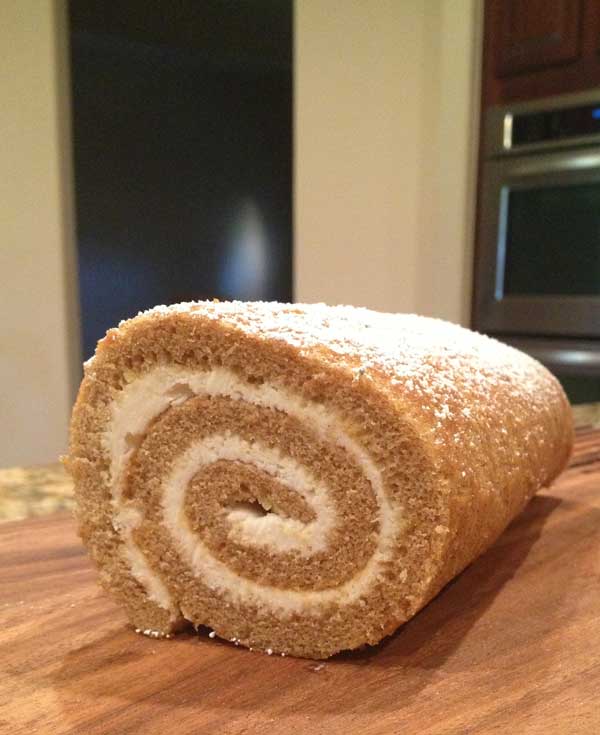 And it lived up to its name, as it really was the easiest jellyroll I have ever made. I've always found jellyroll cakes a little intimidating for some reason, but this one came together so nicely that I feel compelled to experiment with more. I guess the pancake mix keeps the jellyroll pliable and less likely to break as you roll it. I'll definitely be trying a few more variations. Maybe fill the pumpkin roll with ice cream?
Good luck with the giveaway and enjoy your future holiday weekend breakfasts. And remember, you can keep in touch with Hungry Jack on Facebook.
Disclosure:  This was a paid promotion, but all opinions expressed are my own.
Related posts: