My old photo of Earl's Chocolate Pie was in desperate need of a makeover, and in some ways so was the recipe even though it's become one of my favorite pies. I've made the filling multiple times and it gets five stars for convenience, texture and affordability. I also appreciate that it calls for evaporated milk rather than cream and cocoa powder instead of chocolate, yet is still plenty rich and chocolaty. The most important change was to get rid of the meringue and use sweetened whipped cream instead.  I do like meringue, but whipped cream is just so much of a better counterpart to the filling.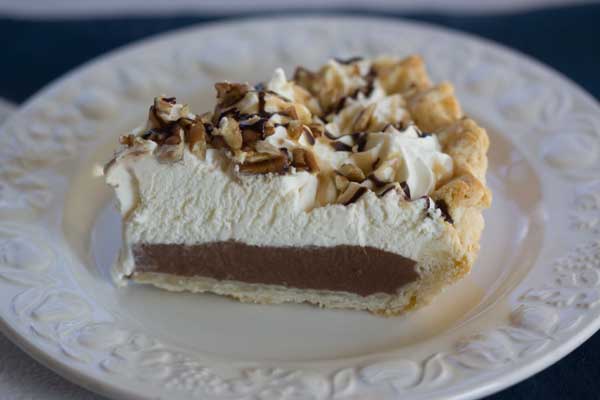 The other improvements I made to Earl's were inspired by Emily's turtle pie. I followed her lead by sprinkling the pie with toasted pecans and drizzling chocolate and caramel syrup over the top; which also gave me an excuse to some new caramel syrup recipes! The one that worked the best was the easiest — this one from Food Network (with less vanilla). I chilled it and squeezed it out of pastry bag.  For something like caramel apples or brownies, you'd want to use a sauce that gets a little firmer, but this one was perfect for sauce and absolutely fool-proof.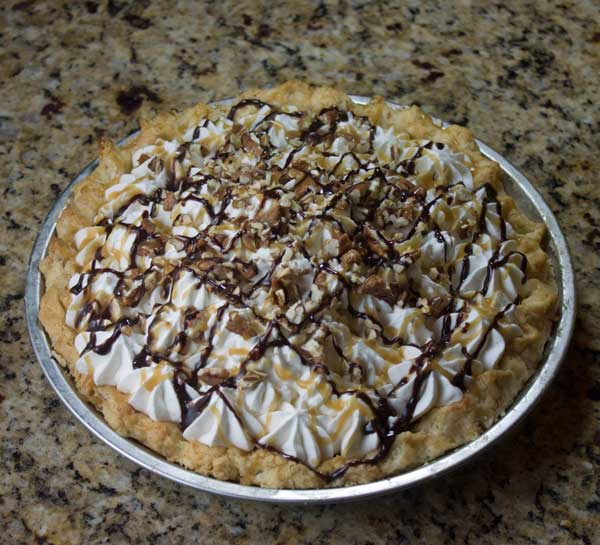 As for the crust, I used Rose Levy Berenbaum's recipe because I had the time and it sounded interesting, but use whatever recipe you want. I'm still on the fence when it comes to all-butter crusts vs. shortening. I like the idea of an all-butter crust and butter definitely tastes great, but crusts made with Grandma Ruth's or Crisco recipes get the "It's so flakey" comments.
Here's the new and improved recipe. My next attempt is going to be a lightened version.  I'm going to make a a fat free brownie pie crust by baking No-Pudge brownies in a glass pie plate, using the filling as directed, and topping with light whipped topping.  With those changes, the pie really will be lower in fat.

New and Improved Earl's Chocolate Pie
An easy chocolate pie drizzled with caramel sauce and chocolate sauce. The filling is made with evaporated milk.
Ingredients
1 baked 9 inch crust, use your favorite recipe or buy one and bake it
Filling:
3/4 cup granulated sugar
3 tablespoons unsweetened cocoa powder (Rodelle Dutch works well)
3 tablespoons flour
Small pinch of salt
3 large egg yolks
1 cup evaporated milk
1 cup water
1 tablespoon room temperature unsalted butter
1 teaspoon good vanilla extract
Whipped Cream
1 ½ cups heavy whipping cream
1/3 cup powdered sugar
1 teaspoon vanilla extract (Sonoma Crush)
Garnish
1/2 cup toasted and chopped pecans
Chocolate Syrup
Homemade or store bought caramel syrup
Instructions
Bake a 9 inch pie crust using your favorite homemade recipe or refrigerated or frozen dough.
In a large saucepan (I use a 3 quart All-Clad metal), whisk sugar, cocoa powder, flour, salt, egg yolks, evaporated milk and water together. Put the saucepan over medium heat and stir for about five minutes or until mixture thickens and big bubbles start to form on the surface. From the time the mixture starts bubbling and boiling, continue stirring for an additional 1 1/2 to 2 minutes.
Remove from heat and pour into a glass bowl. Quickly whisk in the butter, then whisk in the vanilla. Put a piece of buttered parchment or wax paper over the top and let cool at room temperature for about an hour. Note: At this point you may think the filling seems to thin, but it will set when you chill it. Pour the slightly cooled filling into the baked pie shell and chill for several hours or until very cold.
When the pie is chilled, beat the cream until peaks start to form, beat in the sugar and vanilla until peaks are stiff, then put cream in a pastry bag or heavy duty zipper bag with the end snipped off and pipe it over the top. Sprinkle the toasted and chopped nuts, then drizzle with caramel syrup and chocolate syrup.
Notes
I use Rodelle cocoa powder and the flavor of the chocolate reminds me of cook & serve chocolate pudding. I haven't tried this pie with anything other than Dutch, so it's possible using natural might change the consistency.

My saucepan is metal so my filling thickens fairly quickly. Yours may take longer if you use a thicker saucepan.

That two minutes of stirring after the mixture starts to boil is supposed to kill enzymes in the eggs that cause filling to thin out after it sets.

If you really want to lighten the pie, replace the whipped cream with Cool Whip Lite. I've never tried this, but you could try replacing the crust by baking No-Pudge brownie in a glass pie plate, using the filling as directed, and topping with light whipped topping.
Related posts: