I seem to be on a quick bread kick this week, so here's another recipe for you — an apple bread which calls for a mixture of half AP flour and half whole wheat. The apples are grated rather than chopped, so they kind of dissolve into the bread without leaving big chunks of cooked fruit. And while this bread is tasty, it's not oily or rich, and doesn't seem overly indulgent for breakfast. It is satisfyingly sweet!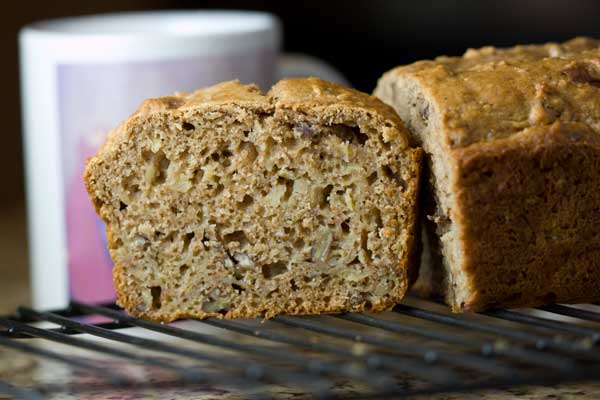 This recipe was designed for two small (8×4) inch loaf pans. Mine are from Baker's Secret and came as a set of two. They were pretty cheap, but so far so good — all my little loaves have baked up quite nicely. If you use slightly larger pans (8 1/2 by 4 1/2), the loaves will be a bit stubbier, but probably good. I suppose you could also make this loaf as one large 9 1/2 by 5 1/2 inch loaf and increase the bake time by about 15 minutes.
Whole Wheat Apple Pecan Bread
An apple bread made with fresh apples, toasted pecans and a mixture of whole wheat and all-purpose flour
Ingredients
4 tablespoons unsalted butter, softened
2/3 cup firmly packed light brown sugar
2 large eggs
1 teaspoon vanilla extract
1 1/2 cups (6.8 oz) all-purpose flour
1 cup (5 oz) whole wheat flour
1 teaspoon salt
1 teaspoon baking soda
1 teaspoon baking powder
2 1/2 teaspoon cinnamon
1/2 teaspoon ground ginger
1/2 teaspoon freshly grated nutmeg
1 cup buttermilk, room temperature
1 cup toasted and chopped pecans
2 cups grated and peeled apple (or two large apples -- I used Jonagold)
Instructions
Preheat oven to 350 degrees F. Grease and flour two small (8x4 inch) loaf pans.
In a mixing bowl, using an electric mixer, beat the butter and sugar until creamy. Beat in the eggs and vanilla.
In another bowl, thoroughly mix together the dry ingredients (flour through nutmeg). Add the flour mixture and buttermilk alternately to the sugar mixture.
Stir in the pecans and apples.
Divide batter between the two pans and bake for about 45 minutes or until a skewer inserted in the center comes out clean.
Let cool in pan for 15 minutes, then carefully remove from pan.
Related posts: