Almond Flour Chocolate Chip Cookies were inspired by some expensive "paleo" cookies I saw at the grocery store.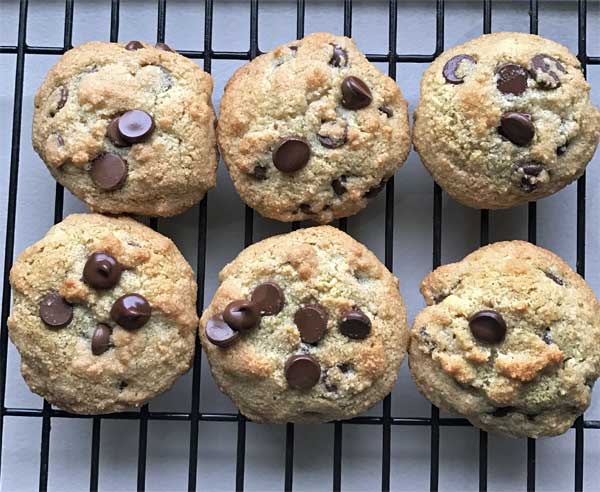 The recipe is simple and doesn't require an electric mixer or a lot of ingredients.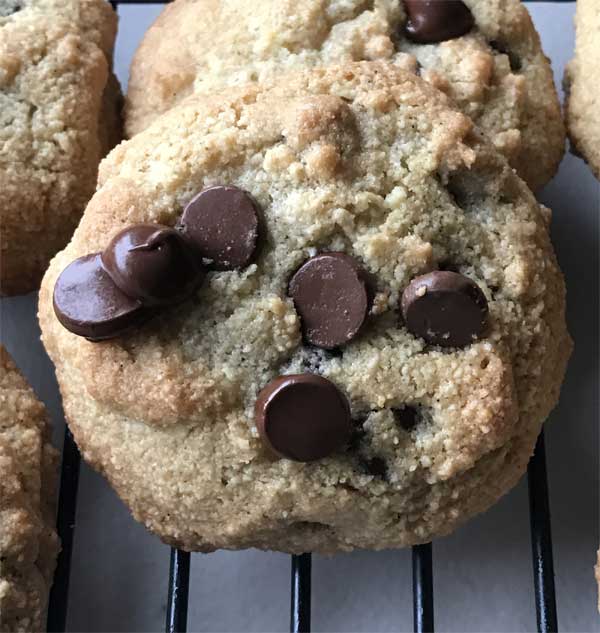 And like the grocery paleo cookies, they have a fairly simple ingredient list. Almond flour is the only specialty ingredient, and these days it's pretty easy to come by.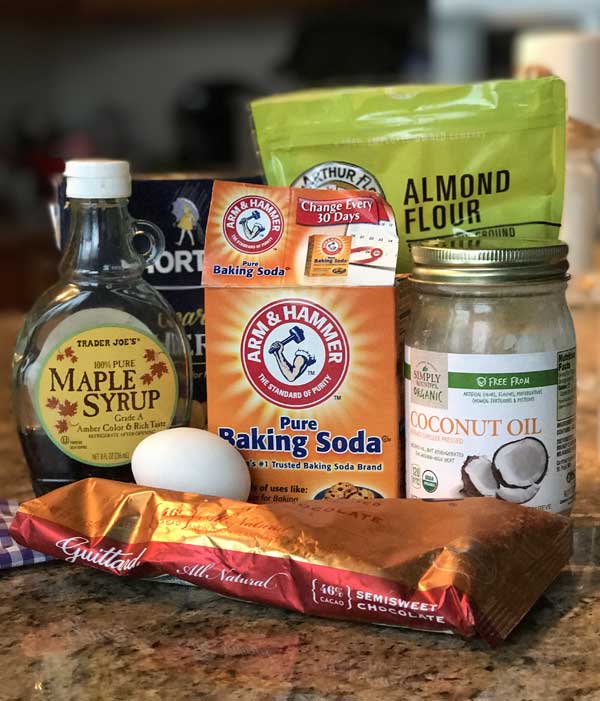 I've only made these once and the recipe worked well on the first try. However, results may vary depending on brands of almond meal, maple syrup, how you measure, etc. Here's what the consistency of the dough should look like.
They only take about 12 minutes to bake and taste terrific! Also, they are soft with crispy edges, so if you like soft cookies you should try them.

Almond Flour Chocolate Chip Cookies
Almond Flour Chocolate Chip Cookies
Ingredients
1 1/2 cups blanched almond flour (150 grams)
1/2 teaspoon Baking Soda
1/2 teaspoon Salt
1 large egg
1/4 cup maple syrup
1 teaspoon vanilla extract or vanilla bean paste
1/4 cup unrefined coconut oil, melted and cooled slightly
3/4 cup semisweet chocolate chips
Instructions
Preheat oven to 375°F. Line a large baking sheet with parchment paper.
In a mixing bowl, mix together almond flour, baking soda and salt.
In a second bowl, mix the egg with the maple syrup and vanilla.
Add the egg mixture to the flour mixture and stir until combined, then stir in the melted coconut oil.
If the dough looks too wet, sprinkle in some more almond flour. The dough should be the consistency of thick mashed potatoes. Stir in chocolate chips.
Using a tablespoon, scoop up heaps of dough and arrange on the parchment lined baking sheet spacing about 2 1/2 inches apart. Bake one sheet at a time for about 12 to 15 minutes.
Related posts: