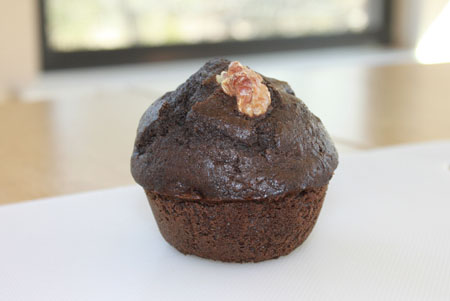 Author: Cookie Madness
Chocolate cocoa muffins with high crowns
3/4 cups plus 2 tablespoons all-purpose flour
6 tablespoons sugar
1 teaspoon baking powder
1/4 teaspoon baking soda
1 teaspoon ground cinnamon
1/8 teaspoon ground cloves
3/8 teaspoon salt
1/4 cup (1/2 stick) unsalted butter, melted and cooled
3 tablespoons unsweetened cocoa powder (I used Hershey's Dark)
1 large egg, at room temperature
1/2 cup buttermilk or sour milk -- don't be heavy handed with the milk. Err on the side of less.
1/4 cup semisweet chocolate chips
Preheat oven to 400 degrees F. Spray 6 muffin tins with baking spray.
Thoroughly combine the flour, sugar, baking powder, baking soda, cinnamon, cloves and salt and set aside.
In a mixing bowl, whisk the melted butter with the cocoa until it is smooth. Whisk in the egg and milk. Add the flour mixture and stir until the ingredients are just blended, then fold in the chocolate chips. Spoon the mixture into the tins, dividing evenly.
Bake until a wooden skewer inserted in the center of a muffin comes out clean, about 15 (I baked for 18) minutes. Remove immediately from the tins and cool briefly on a wire rack.
Recipe by
Cookie Madness
at http://www.cookiemadness.net/2011/01/spiced-cocoa-muffins/