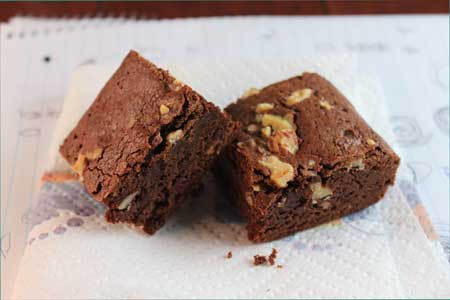 Author: Cookie Madness
Prep time: 10 mins
Cook time: 32 mins
Total time: 42 mins
Small batch brownies baked in a loaf pan
5 tablespoons unsalted butter
2 1/2 ounces unsweetened chocolate
2 large eggs
1/4 teaspoon salt
1 cup granulated sugar
1 teaspoon vanilla
1/3 cup plus 2 level tablespoons (2 oz) all-purpose flour
1/4 cup walnuts, toasted coarsely chopped
Preheat oven to 350ºF. Line a 9 x5 inch metal loaf pan with non-stick foil.
Melt butter in medium size microwave-safe bowl or in a 2 cup Pyrex measure. Add the chocolate and stir until almost fully melted. Add about half of the sugar to the chocolate and stir well. Return chocolate to microwave and heat on high for another 20 seconds, then stir again until the chocolate mixture is smooth and chocolate is fully melted.
In a medium size mixing bowl, beat the eggs with a hand-held electric mixer for about a minute. With mixer going, gradually add the remaining sugar and continue beating for about 5 minutes or until mixture is light and slightly thicker. With a spoon, beat in the melted chocolate mixture, salt and vanilla, then stir in the flour and the nuts.
Pour batter into pan and bake for 32-35 minutes or until edges have pulled away from sides of pan and brownies are fragrant. Let cool at room temperature for about 30 minutes, then chill for about 2 hours before slicing.
Recipe by
Cookie Madness
at http://www.cookiemadness.net/2011/08/loaf-pan-brownies/