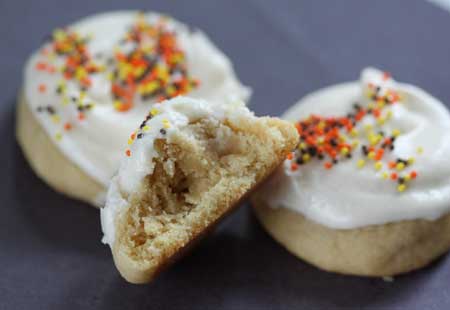 Author: Cookie Madness
Easy soft,dense, sugar cookies
1/2 cup Butter Flavored Crisco
1/2 cup plus 2 tablespoons granulated sugar
1 large egg
2 tablespoons maple syrup or pancake syrup
1 1/2 teaspoon vanilla extract
1 1/2 cups (6.8 oz)all-purpose flour
3/8 teaspoon baking powder
1/4 teaspoon baking soda
1/4 teaspoon salt
Vanilla Frosting
2 cups powdered sugar
4 1/2 tablespoons butter, softened
1 1/2 to 2 tablespoons whole milk
1/2 teaspoon vanilla extract
Sprinkles
Preheat oven to 350ºF.
In a large mixing bowl using a hand-held electric mixer, beat the shortening and sugar until creamy. Add egg, syrup and vanilla; beat well. By hand, gradually add flour mixture until blended.
Shape dough into balls and roll in sugar OR leave plain if using frosting. For flatter cookies, press the dough down. For fat rounds, keep the cookie dough in balls. Bake for 8-10 minutes, depending on size and thickness of dough balls. Be careful not to over-bake. Cool 2 minutes, then remove from cookie sheets to cool.
To make the frosting, beat the sugar and butter together with an electric mixer. Add milk as needed (starting with 1 1/2 tablespoons and working up) and continue beating until creamy. Beat in the vanilla.
Recipe by
Cookie Madness
at http://www.cookiemadness.net/2011/10/halloween-sugar-cookies/