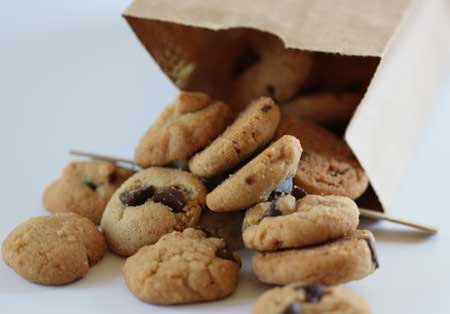 Mini Peanut Butter Chocolate Chip Toffee Cookies
Author: Cookie Madness
Miniature peanut butter cookies with toffee and chocolate chips
1/2 cup butter flavored shortening (I used butter flavored Crisco)
1/4 teaspoon salt
1/2 teaspoon baking soda
1/2 cup peanut butter (crunchy or creamy okay)
1/2 cup granulated sugar
1/2 cup firmly packed brown sugar
1/2 teaspoon vanilla extract
1 large egg, beaten
1 cup (4.5 oz) all-purpose flour
1 cup semi-sweet or dark chocolate chips
1/3 cup toffee chips (such as Heath bits or Skor bits)
Preheat the oven to 325F and have ready a couple of large, ungreased baking sheets.
With an electric mixer, beat the shortening, salt, baking soda and peanut butter together. Beat in both of the sugars and the vanilla. Beat in the egg.
By hand or using the lowest speed of the mixer, stir in the flour, and then stir in the chips and toffee bits. With a very well rounded (slightly heaping) 1/4 teaspoon measure, scoop up dough and shape into small tightly packed balls. Arrange the small balls on the baking sheet about 20 to a sheet and bake on center rack for 12-14 minutes or until cookies appear done and slightly brown on the edges. Remove from oven and transfer to a wire rack to cool.
You should get about 100 cookies, but possibly fewer if you make your cookies larger. Also, watch the cook-time closely as ovens vary.
Recipe by
Cookie Madness
at http://www.cookiemadness.net/2011/10/mini-peanut-butter-chocolate-chip-toffee-cookies/