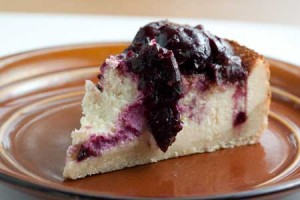 Author: Cookie Madness
Prep time: 20 mins
Cook time: 130 mins
Total time: 2 hours 30 mins
Traditional New York style cheesecake
Crust:
2 cups graham cracker crumbs
1/4 cup granulated sugar
8 tablespoons salted butter
Filling:
5 packages (8 ounces each) cream cheese, softened
1 3/4 cups sugar
2 teaspoons lemon zest
1/2 teaspoon vanilla extract
5 large eggs, room temperature
2 large egg yolks, room temperature
3 tablespoons all-purpose flour
1/4 cup heavy cream
Set a roasting pan half-full of hot water on the bottom rack of the oven. Preheat to 475 degrees F.
Grease a 9 inch round or 10 inch round springform pan. I've been using a 9 inch. Mix all the crust ingredients and press into the pan, going about one inch up the sides.
In a large mixing bowl or the bowl of stand mixer, beat the cream cheese, sugar, lemon zest and vanilla on low speed until well mixed. Slowly add the eggs and the yolks, being careful not to beat extra air into the batter. With the mixer still on low, beat in the flour and cream. Pour into the prepared pan and drag a spatula through the batter to remove air bubbles. Let stand for about 10 minutes and drag the spatula again.
Put the cheesecake in the hot and steamy 475F oven and lay a sheet of foil over the top. Bake for exactly 10 minutes, then without opening the door, reduce heat to 200F and bake for another hour. Without opening the door, turn off heat and let cheesecake sit in warm oven for another hour. Remove from heat and let cool completely, then cover top with foil and chill overnight.
Recipe by
Cookie Madness
at http://www.cookiemadness.net/2011/12/new-york-cheesecake/