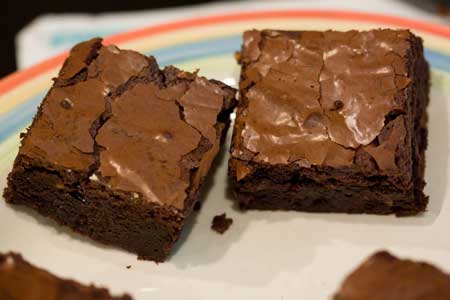 Author: Cookie Madness
Total time: 1 hour 10 mins
Deep, dark, fudgy, gluten free brownies made with almond butter.
2 sticks (8 ounces) unsalted butter
6 ounces semi-sweet or bittersweet chocolate, chopped
1/2 cup plus 1 tablespoon unsweetened cocoa powder ( I used half Hershey's Dark, half Hershey's Natural)
1 packet Starbucks Via or ½ tablespoon instant coffee dissolved in ½ tablespoon water
1/4 teaspoon salt
1 teaspoon vanilla
3 large eggs, room temperature
1 1/4 cups granulated sugar
5 1/4 ounces (1/2 cup plus a generous tablespoon) commercial almond butter
Preheat oven to 325 degrees F. Line an 8 inch square metal pan with nonstick foil.
In a saucepan, heat the butter over medium, swirling every couple of minutes, until the butter foams and eventually starts to turn brown around the edges. Remove from heat and add the chocolate. Let the chocolate sit in the hot butter for about 2 minutes to melt, then stir until smooth. Stir in the cocoa powder, coffee/water mixture, salt and vanilla.
In a mixing bowl using an electric mixer, beat the eggs. Gradually add the granulated sugar, beating constantly. Beat for about 5 minutes. Mixture should almost triple in volume (though I 'm not sure mine did!). Beat in the almond butter until smooth.
Add the chocolate mixture and beat until smooth. Pour the mixture in the pan. Bake on center rack for 45 to 50 minutes. Remove from the oven and let cool completely, then chill for about 2 hours or until firm and cold. Lift from pan and cut. Alternatively, as soon as you take the brownies from the oven, plunge the pan into a roasting pan with ice water to quick cool. Put them in the refrigerator.
I didn't have 6 ounces of fancy chocolate around, so I used about 3 ounces of dark chocolate Dove candies and 3 ounces (1/2 cup) Guittard extra dark chocolate chips. I'm not sure how the brownies would be with 6 oz (1 cup) of extra dark chocolate chips, so if you try it, let me know.
Recipe by
Cookie Madness
at https://www.cookiemadness.net/2012/04/gluten-free-almond-butter-brownies/