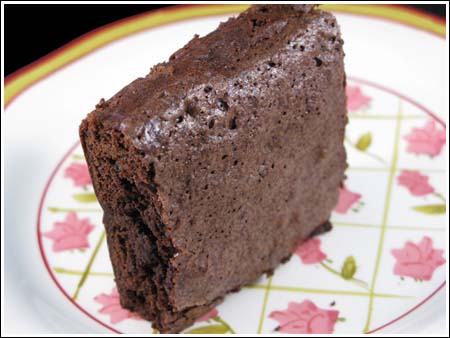 Zingerman's Brownie Clone
Author: Cookie Madness
Prep time: 10 mins
Cook time: 30 mins
Total time: 40 mins
Brownies like the ones from Zingerman's in Michigan
13 tablespoons (190 grams) unsalted butter
6.5 oz unsweetened chocolate, chopped
1 1/2 cups cake flour or 1 1/3 cups all purpose (6 oz/180 grams)**
3/4 teaspoon baking powder
1/2 teaspoon Kosher salt
4 large eggs
2 cups sugar (380 grams)
1 1/4 teaspoons vanilla
1 cup chopped nuts or dark chocolate chips
Preheat oven to 325 degrees F. Line a 13×9 inch metal pan with nonstick foil.
In a heavy small saucepan, heat the butter over medium heat. When halfway melted, reduce heat to low and add chocolate; stir until melted and smooth. Set aside.
Sift together flour, baking powder and salt onto a sheet of paper or into a bowl.
Beat eggs and sugar with an electric mixer on high speed for 5 minutes or until light yellow and fluffy, scraping side of the bowl occasionally. Add slightly cooled (it will still be a little warm) chocolate mixture and vanilla to egg mixture. Beat on low speed or by hand until combined. Add flour mixture; beat on low speed or stir by hand until combined, scraping sides of bowl. Stir in nuts (if using) or chocolate chips.
Spread batter in pan. Bake 30 minutes or until brownies appear set. Cool in pan on wire rack; cut into bars.
To freeze, let cool completely, wrap tightly in foil without cutting. Freeze until needed.
I usually make these with 6 oz/170 grams of cake flour. If you use all-purpose, it's best to weigh out 6 oz since the amount of all-purpose flour can vary from cup to cup. If you don't have a scale and are using all-purpose, fluff up the flour very well, then scoop and level the top or just spoon it into the measuring up. Don't pack it in. If you are using cake flour and don't have a scale, just measure as you always do. For some reason cake flour almost always weighs 4 oz/114 grams per cup whereas all-purpose varies more and weighs from 4.5 to 5.3 oz per cup.
Recipe by
Cookie Madness
at http://www.cookiemadness.net/2008/04/dont-cry-for-me-argentina-im-making-brownies/