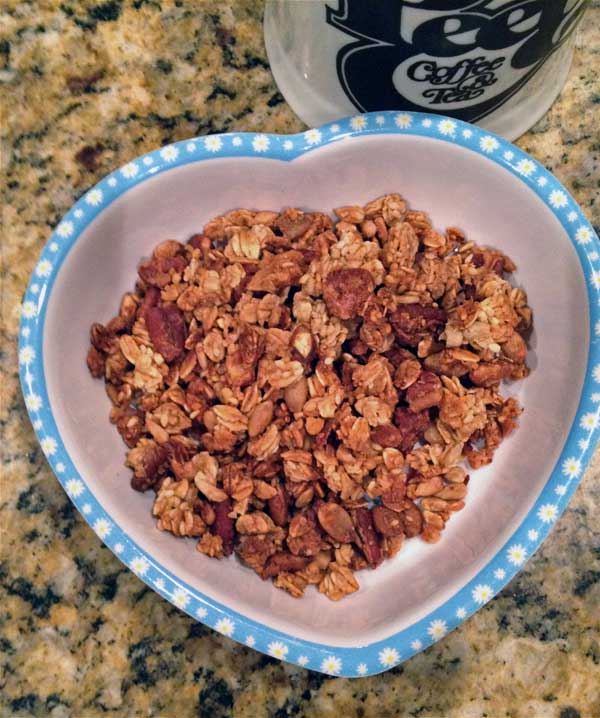 Applesauce & Agave Granola
Author: Cookie Madness
A low oil granola recipe made with applesauce
2 1/3 cups (8 ounces) old fashioned oats
1/4 cup oat bran
1 cup walnuts and/or pecans, coarsely chopped
1/2 cup sunflower seeds
1/4 cup sesame seeds
1/4 cup pumpkin seed kernels (pepitas)
2 tablespoons packed light or dark brown sugar
1 teaspoon cinnamon
1/2 teaspoon ginger
1/2 teaspoon Kosher salt
1/2 cup unsweetened applesauce
1/4 cup light agave syrup (or another type syrup)
1 tablespoon honey
1 tablespoon coconut oil
1/3 cup raisins, optional
Preheat oven to 325 degrees F. Line a large rimmed baking sheet with nonstick foil or parchment paper.
In a large bowl, mix together oats, oat bran, nuts, sunflower seeds, sesame seeds, pumpkin seeds, brown sugar, cinnamon, ginger and salt.
To the oat mixture, add the applesauce, agave, honey, and coconut oil. Stir well.
Spread the mixture on the prepared baking sheet and bake for about 30 to 33 minutes, stirring every 10-12 minutes, until the granola is a golden brown. Remove from oven and let cool completely. It should crisp as it cools.
You can omit the oat bran and use 2 1/2 cups oats
Recipe by
Cookie Madness
at http://www.cookiemadness.net/2012/06/applesauce-agave-granola/