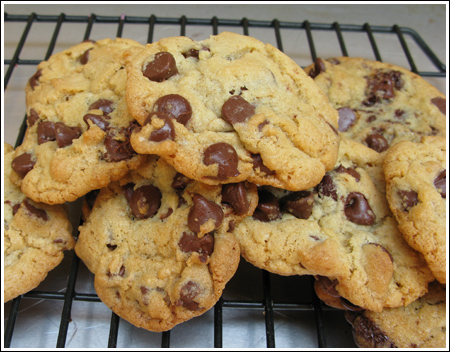 Another Crunchy Chocolate Chip Cookie Recipe -- All Butter
Author: Cookie Madness
Prep time: 10 mins
Cook time: 12 mins
Total time: 22 mins
Crunchy Chocolate Chip Cookies made without shortening. See my note if you'd like to make the mini" version.
1 3/4 cups (220 grams), stir and aerate flour before measuring
1/2 teaspoon baking powder
1/2 teaspoon soda
1/2 teaspoon salt
8 tablespoons unsalted butter, room temperature
1/2 cup light brown sugar (100 grams)
1/2 cup granulated sugar(98 grams)
1 1/2 teaspoons vanilla extract
1 large egg (50 grams)
1 1/3 cup semi-sweet chocolate chips
Preheat oven to 350 degrees F. Line a couple of cookie sheets with parchment.
Sift or thoroughly whisk together flour, baking powder, baking soda and salt. Set aside.
Cream butter and both sugars with an electric mixer; Add egg and vanilla and beat until egg is mixed in.
Add flour mixture and stir until incorporated. Stir in chocolate chips.
Drop by rounded teaspoons onto the parchment lined cookie sheets and bake for 12-15 minutes (or longer) or until the edges start to brown. The baking powder prevents the cookies from browning quickly, so it seems the cookies can bake a longer time and becoming crunchier without burning or getting overly brown. I baked mine on an insulated cookie sheet, so if you notice your bottoms are browning too fast, switch to an insulated cookie sheet or stack you cookie sheet on top of another one to make your own insulated sheet.
If you have a scale it doesn't matter, but if you are measuring by volume, make sure to really stir and aerate the flour thoroughly before measuring. I always weigh out 220 grams. Dough should not be too dry.

For mini chocolate chip cookies, preheat the oven to 300 instead of 350. Make tiny marble size rounds and bake for 18 to 20 minutes.
Recipe by
Cookie Madness
at http://www.cookiemadness.net/2008/05/another-crunchy-chocolate-chip-cookie-recipe-all-butter/