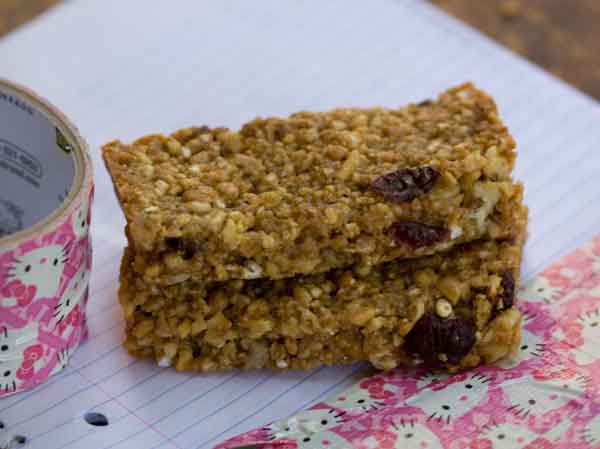 (Almost) No-Bake Granola Bars
Author: Cookie Madness
No-bake granola bars made with crushed cereal
1/4 cup honey
1/4 cup corn syrup
1/3 cup extra crunchy peanut butter
3 cups puffed wheat/whole grain type cereal (Kashi) or Go Lean (see note)
1/3 cup dried cherries or cranberries
1/3 cup toasted and chopped walnuts
Preheat the oven to 350 degrees and line a 9 inch square metal pan with nonstick foil.
In a large (3 quart) nonstick saucepan, combine the honey, corn syrup and peanut butter. Heat over medium until the mixture starts to boil, then boil gently for 1 minute. Remove from heat and stir in the cereal, cherries and nuts.
Scrape mixture into pan and bake for 10 minutes. Let cool for about 30 minutes, then lift from the pan and score (do not separate) into 8 bars. Let the bars cool completely.
Recipe by
Cookie Madness
at http://www.cookiemadness.net/2012/08/no-bake-granola-bars-2/