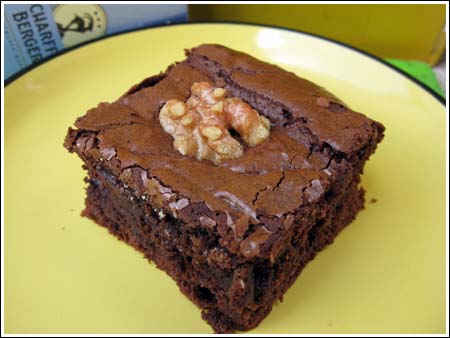 Author: Cookie Madness
Prep time: 10 mins
Cook time: 35 mins
Total time: 45 mins
Brownies that are not too cakey and not too fudgy
5 oz semi-sweet chocolate (Scharffen Berger 70% Cacao Bittersweet)
2 oz unsweetened chocolate (Hershey's unsweetened)
8 tablespoons unsalted butter
3 tablespoons unsweetened cocoa powder
3 large eggs
1 1/4 cups granulated sugar
1 1/2 teaspoons vanilla extract
1/2 teaspoon salt
1 cup all purpose flour
Walnuts for top (optional)
Preheat oven to 350 degree F. Line an 8 inch metal pan with Release foil or line with regular foil and spray foil with cooking spray.
Melt butter in a saucepan set over medium heat. When it's about halfway melted,add the chocolate, reduce heat to low and stir until chocolate is melted. Stir in cocoa powder. Remove from heat to cool slightly.
Whisk eggs, sugar, vanilla and salt together in a mixing bowl. Whisk in the melted chocolate mixture. Add the flour and stir until blended. Pour into pan.
If desired, place 9 walnut halves across the top. This is best for large brownies.
Bake for 35-40 minutes. Let sit on a wire rack until completely cool. Chill if desired, or score into 9 large brownies or 16 small. ATK cuts theirs into 1 inch squares and gets a lot more.
Recipe by
Cookie Madness
at http://www.cookiemadness.net/2008/06/chewy-fudgy-brownies/