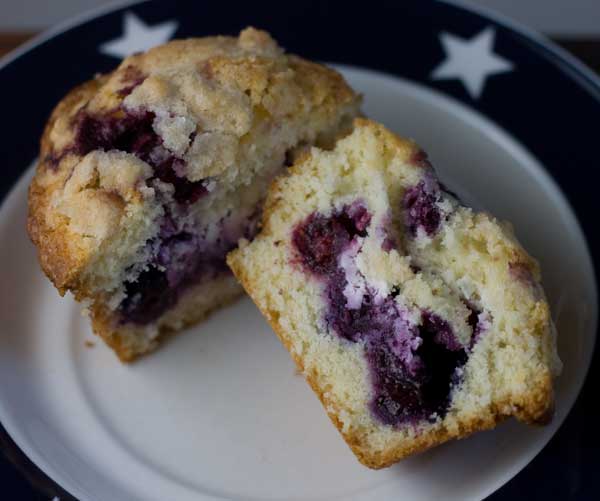 Blueberry Cream Cheese Danish Muffins
Author: Cookie Madness
Moist muffin filled with cream cheese and topped with a crunchy streusel.
Filling:
4 ounces cream cheese, softened
2 tablespoons granulated sugar
2 teaspoons lemon juice
Muffins:
2 cups (9 ounces) all-purpose flour
1 1/2 teaspoons baking powder
1/2 teaspoon salt
1 stick (4 ounces) unsalted butter, softened
1 cup granulated sugar
2 large eggs, room temperature
1 1/2 teaspoon vanilla
1/4 teaspoon lemon zest
1/2 cup milk
Frozen of fresh blueberries (amount will vary)
Topping:
2 tablespoons all-purpose flour
5 tablespoons granulated sugar
1/2 teaspoon ground cinnamon
2 tablespoons butter, chopped into small pieces
Preheat the oven to 375°F. Grease 12 muffin cups or line with paper liners.
In a small mixing bowl, mix together the cream cheese, sugar and lemon juice; set aside.
Stir the flour, baking powder and salt together in a medium size bowl and set aside.
In a mixing bowl, beat the butter and sugar until light and creamy. Beat eggs, one by one, until batter is light and fluffy. Stir in the vanilla and lemon zest. Add the flour mixture alternately with the milk and stir by hand until mixed. Do not over-beat.
Put a generously heaping tablespoon of batter in each muffin cup. Press a few frozen berries in the batter, then put a spoonful of cream cheese filling over the batter, using all the cream cheese filling and dividing evenly. Press another couple of berries into the cheese. Top with remaining muffin batter, dividing evenly among the cups.
In the same bowl you used for the muffin batter (or flour mixture), mix 2 tablespoons flour, 5 tablespoons sugar and 1/2 teaspoon cinnamon. Add 2 chopped up butter and mix with a fork until crumbly. Sprinkle over tops of muffins.
Bake the muffins for 28 to 30 minutes or until set and golden brown all over top. Let cool for 10 minutes in the pan, then carefully remove from pan and let cool completely.
Make sure to let the muffins cool before you attempt to remove them from the pan. They're kind of delicate while warm, and need that extra 10 minutes or so to set.
Recipe by
Cookie Madness
at http://www.cookiemadness.net/2012/08/blueberry-cream-cheese-danish-muffins/