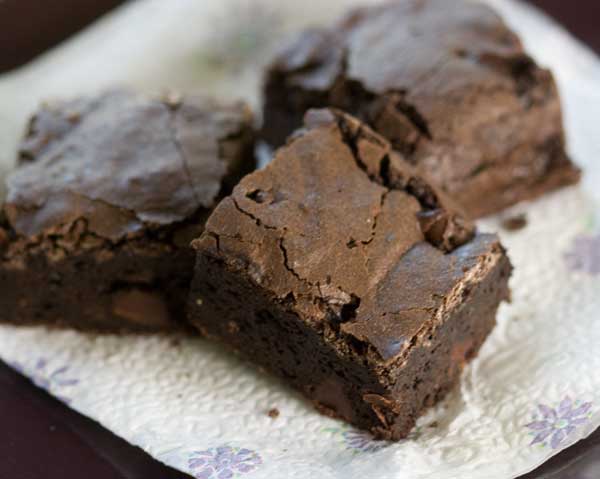 Author: Cookie Madness
Prep time: 10 mins
Cook time: 30 mins
Total time: 40 mins
Brownies with a little less fat than usual. [sc: Ziplist]
1 tablespoon butter
1 ounce chopped unsweetened chocolate, (not chips or semisweet)
2 tablespoons room temperature grapeseed oil or canola
2/3 cup unsweetened Dutch process cocoa (Hershey's Special Dark or Callebaut)
2 large eggs
1 large egg white
1 1/2 cups granulated sugar
1 1/4 teaspoons vanilla extract
1/2 teaspoon baking powder
3/8 teaspoon salt
1 cup (4.5 ounces) aerated and carefully measured (or weighed) flour or whole wheat pastry flour (even better!)
1/4 cup extra dark chocolate chips
Preheat oven to 350 degrees F. Line an 8 inch metal pan (do not use glass) with nonstick foil.
In a saucepan, melt the butter over medium heat. Add the chocolate, remove pan from heat and stir until chocolate melts in the hot butter. If residual heat doesn't melt the chocolate enough, put the pan back on low.
Stir the grapeseed oil into the melted chocolate, then stir in the cocoa. The mixture will look like thick, black, mud.
In a mixing bowl, whisk the eggs, egg white, sugar and vanilla. Whisk in the baking powder and the salt, then scrape into thick chocolate mixture and stir well. Stir in the flour. When well mixed, stir in the chocolate chips.
Bake on center rack for 30 minutes or until brownies appear set.
Let cool completely on a rack. Lift from pan and slice into squares or for a cleaner cut, chill for a few hours and then cut. I always chill mine before cutting, then serve at room temperature.
If you want a smaller batch, halve the recipe and bake in an 8 1/2 by 4 1/2 inch metal loaf pan lined with nonstick foil. For a half batch, you'll use 1 whole egg plus half an egg white. Halving an egg white is awkward. I just crack a whole into a bowl and spoon out what I feel is *about* half a white. It doesn't have to be precise. And using 1 egg and 1 whole white probably wouldn't wreck the recipe, but I like sticking with the proportions so I go ahead and halve the egg white.
Recipe by
Cookie Madness
at http://www.cookiemadness.net/2012/09/reduced-fat-brownies-made-with-grapeseed-oil/