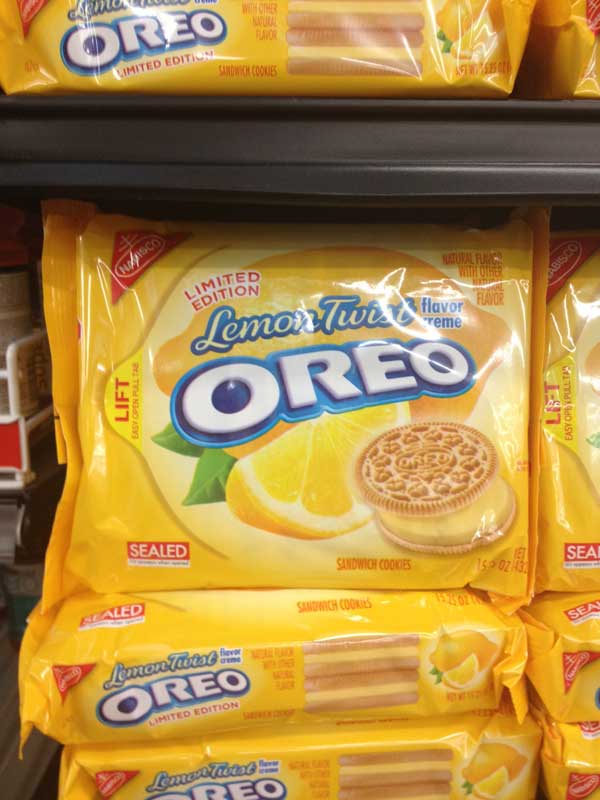 Cold Oven Lemon Oreo Pound Cake
Author: Cookie Madness
Prep time: 20 mins
Cook time: 70 mins
Total time: 1 hour 30 mins
Cold oven pound cake made with lemon zest and lemon flavored sandwich cookies
2 packed teaspoons fresh lemon zest
1 1/4 cups granulated sugar
10 tablespoons unsalted butter, softened
1/2 teaspoon vanilla extract
Scant 1/2 teaspoon of salt
3 large eggs, at room temperature
1/4 teaspoon baking powder
1 1/2 cups (6 ounces) cake flour
1/2 cup whole milk, at room temperature
1/2 cup chopped lemon flavored Oreos
Do not preheat the oven since this is a *cold* oven pound cake. Just make sure the rack is in the lower third of the oven.
Grease and flour an 8 1/2 by 4 1/2 inch metal loaf pan or line it with nonstick foil.
In the bowl of a stand mixer, combine the lemon zest and sugar. Using the back of a spoon, mash the lemon around until the sugar is fragrant.
Add the softened butter a few chunks at a time. With the paddle attached, mix on medium low. Increase speed slightly and beat until creamy, scraping bowl often. Beat in the vanilla and salt. One by one, beat in the eggs, beating for 30 seconds after each egg and another full minute after all eggs are added..
Beat in the baking powder.
By hand, stir in the flour and milk, starting and ending with flour.
Pour batter into pan and sprinkle the cookie chunks over the top.
Set pan in the cold oven. Turn heat to 325 degrees F. and bake for 70 minutes or until the cake appears set and a pick inserted in the center comes out clean. Let the cake cool completely, then turn from pan.
A lot of standard loaf pans are a little over 9x5, so if you use a 9x5 loaf pan, your cake will be shorter and might bake a little faster. If using a 9x5 inch loaf pan, check the cake at 60 minutes. I used a 1 pound loaf pan that measured about 8 1/2 by 4 1/2 inches. I
Recipe by
Cookie Madness
at http://www.cookiemadness.net/2012/10/lemon-twist-oreos-and-a-pound-cake-recipe/