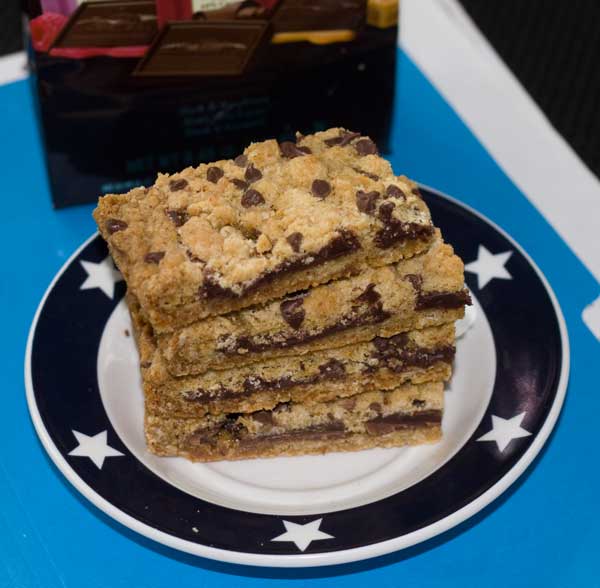 Easy Chocolate Caramel Filled Bars
Author: Cookie Madness
Prep time: 10 mins
Cook time: 20 mins
Total time: 30 mins
Buttery shortbread bars with a layer of chocolate covered caramel in the center.
1 stick (4 ounces) unsalted butter
1 cup (4.5 ounces) all-purpose flour
1/2 teaspoon baking soda
About a 1/2 teaspoon Kosher salt (omit if using salted butter)
1/2 cup firmly packed light brown sugar
1/3 cup old fashioned or quick oats, not instant
1 egg yolk
1/4 teaspoon vanilla extract
9 squares of Ghirardelli Chocolate Caramel Squares or 3 circles of candy apple caramel melted with a tablespoon of cream**
2 tablespoons (approximately) miniature chocolate chips
Preheat oven to 350 degrees F. Line an 8 inch square metal pan with foil and spray foil with cooking spray or just line it with nonstick foil.
Melt the butter in a saucepan or microwave-safe dish, then remove from heat and let cool.
Thoroughly stir together the flour, baking soda, and salt in a mixing bowl. Stir in the sugar and the oats.
Whisk the egg yolk and vanilla into the cooled melted butter, then pour into dry mixture and stir until crumbly. Reserve about 1 cup of the mixture and put it in the refrigerator to chill (it's easier to crumble evenly if it's cold). Press remaining into the pan.
Unwrap the chocolate squares and arrange them in an even layer across the dough.
Crumble the reserved dough over the top.
Bake for 20 to 22 minutes, then let cool completely at room temperature (or chill to speed things up). Sprinkle on chips or nuts if using.
Lift from pan and cut into 16 squares or 8 bars.
Recipe by
Cookie Madness
at http://www.cookiemadness.net/2013/01/easy-chocolate-caramel-bars/