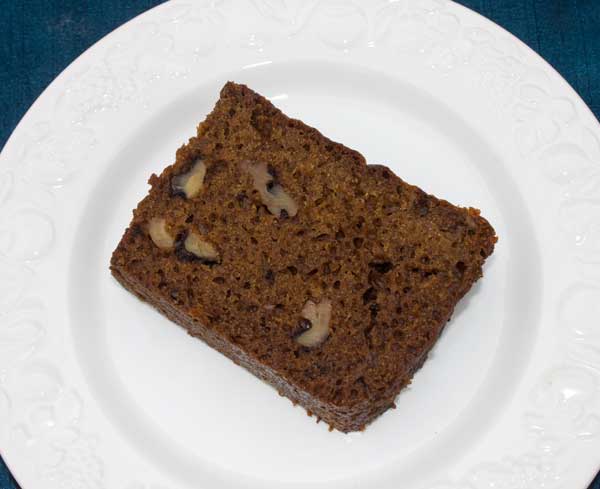 Low Temperature Banana Bread
Author: Cookie Madness
Prep time: 10 mins
Cook time: 180 mins
Total time: 3 hours 10 mins
Low Temperature Banana Bread is based on a banana bread from The Fairmont Hotel.
2 large (8 oz total) bananas
1 cup plus 2 tablespoons (8 ounces) of granulated sugar
3 1/2 teaspoons baking soda
2 large eggs
1 3/4 cup plus 2 tablespoons (8 ounces) all-purpose flour
1/4 cup vegetable oil
1/2 cup buttermilk
1/4 teaspoon salt
1 teaspoon of vanilla (optional)
1/4 cup toasted and chopped walnuts
Preheat oven to 275 degrees F. Grease and flour an 8 ½ x4 inch loaf pan , line with parchment paper and grease the parchment. This is important, because the loaf is rather sticky!
In a blender, puree the bananas, sugar and baking soda.
Empty banana mixture into a mixing bowl. Mix in the eggs and the flour alternately, stirring until well blended.
Mix in the oil, buttermilk and salt, beating with a spoon until blended and smooth. Add the vanilla (if using) and the nuts.
Pour batter into prepared loaf pan and bake for 2.5 hours. Let cool completely, then carefully remove from the pan.
The amount of baking soda seems like a lot, but it's what the recipe calls for and it's probably what creates the dark brown color.

Make sure to really grease and flour the pan well, as this bread is sticky! I used foil and nonstick spray, and still had some stickiness.
Recipe by
Cookie Madness
at http://www.cookiemadness.net/2013/01/low-temperature-banana-bread/