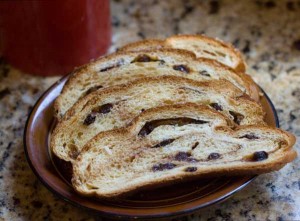 Author: Cookie Madness
Prep time: 30 mins
Cook time: 360 mins
Total time: 6 hours 30 mins
Cinnamon Swirl Bread
Dough:
1 1/4 cup warm milk (115 F)
1 packet active dry yeast
1/3 cup granulated sugar
4 tablespoons unsalted butter, very soft
1 large egg
1 teaspoon vanilla extract
1 teaspoon Princess emulsion or lemon zest (optional)
1 teaspoon salt
20 ounces/560 grams (3 3/4 to 4 1/2 cups) all-purpose flour**
Filling:
1/3 cup granulated sugar
1 tablespoon cinnamon
1 tablespoon flour
1 egg beaten with 1 tablespoon water
1 cup raisins
In a small bowl, combine 1/4 cup of the warm milk, the yeast, and a pinch of the sugar. Stir to dissolve and keep an eye on it to make sure the mixture foams from the yeast.
Combine the remaining warm milk, butter and sugar in the bowl of a stand mixer. Stir in the egg, vanilla, zest and salt – you can use the paddle or a spoon. Add the yeast mixture and 3 1/2 cups of flour and stir until very well mixed but still sticky. Attach the dough hook, and with mixer on medium-low speed, and add the remaining flour, gradually (about ½ cup at a time), until the dough is thick and stretchy. This particular dough is sticky and will not completely clear the sides of the bowl, but if you press it with your finger it should not stick. Continue beating with the dough hook for about 3 to 5 more minutes or until the dough is smooth and you pull it. It should be fairly easy to handle, but should not feel dry.
Grease and put the dough in the bowl. Cover bowl with plastic wrap and set in a warm place to rise for 1 ½ hours.
Make the filling by mixing the sugar, cinnamon and flour together in a bowl. In another bowl, mix together the egg and water.
Divide the dough into two equal pieces. Take the first piece and roll or press it into a long rectangle about 6x18. Brush the rectangle generously with egg mixture and sprinkle about 3 ½ tablespoons (or half) of cinnamon sugar over it. Sprinkle on about ½ cup of raisins. Starting with the short side, roll into a cylinder. Pinch ends to seal and place in an 8 ½ by 4 ½ inch metal loaf pan which has been lined with foil or parchment and sprayed with baking spray. Repeat with second dough section, but instead of putting it in a loaf pan, put the dough on a parchment lined baking sheet. Set the dough in a warm place to rise for another hour and a half.
When dough has risen, brush the dough with remaining egg mixture being careful not to deflate it. Bake the bread in a preheated 350°F oven for about 45 minutes, tenting the loaf with aluminum foil for the final 20 minutes. Remove the loaf from the oven, and after about 10 minutes, remove it from the pan. Let cool.
To make cinnamon toast thins, cut the free-form loaf into thin slices and lay them on a parchment lined baking sheet. Brush slices lightly with a mixture of melted butter and oil, then sprinkle with cinnamon sugar. Bake for 45 to 50 minutes or until slices appear dry. Let cool. They should crisp as they cool.
Recipe by
Cookie Madness
at http://www.cookiemadness.net/2013/04/cinnamon-swirl-bread-and-cinnamon-toast-thins/