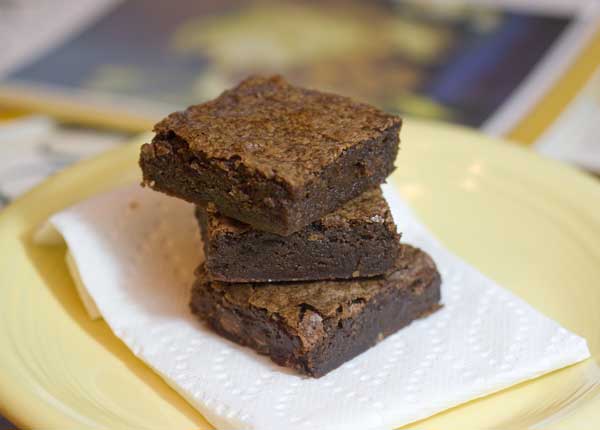 Author: Cookie Madness
Prep time: 10 mins
Cook time: 30 mins
Total time: 40 mins
One Bowl Chewy Brownies Made in an 8 Inch Pan
2 tablespoons plus 2 teaspoons Dutch-processed cocoa
1 teaspoon of espresso powder
1/4 cup plus 1 tablespoons boiling water
1 ounce unsweetened chocolate, finely chopped
2 tablespoons unsalted butter, melted
1/4 cup plus 1 tablespoon vegetable oil (I used grapeseed)
1 large egg
1 large egg yolk
1 teaspoon vanilla extract
1 1/4 cups granulated sugar
3/4 cup plus 2 tablespoons (4.4 ounces) all-purpose flour
3/8 teaspoon salt plus an extra pinch
1/2 cup dark chocolate chips or 3 oz bittersweet chocolate cut into small chunks
Preheat oven to 350 degrees F. Line an 8 inch square metal pan with foil and spray foil with cooking spray.
In a mixing bowl, whisk together the cocoa, espresso powder, and boiling water until smooth. Add the unsweetened chocolate and stir until melted. Stir in melted butter and oil. (Mixture may look curdled.) Add egg, yolk, and vanilla and continue to whisk until smooth. Whisk in sugar until fully incorporated. Add flour and salt and mix with rubber spatula until combined. Fold in chocolate chips (or chopped chocolate).
Scrape batter into pan and bake for about 30 minutes on the lower rack of the oven.
Using foil overhang, lift brownies from pan and set on a wire rack. Let cool for at least an hour.
Recipe by
Cookie Madness
at http://www.cookiemadness.net/2013/04/chewy-brownies-made-in-one-bowl/