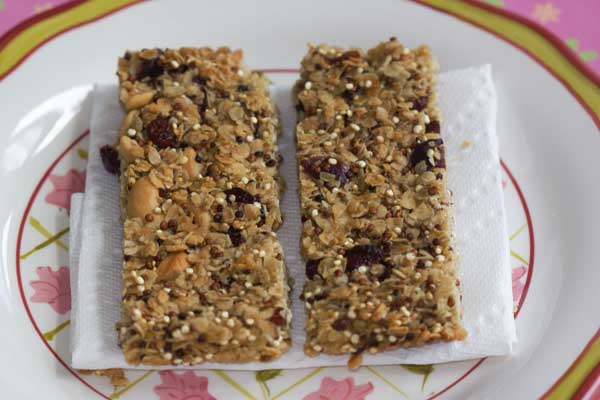 Toasted Quinoa Cashew Cranberry Bars
Author: Cookie Madness
Prep time: 10 mins
Cook time: 25 mins
Total time: 35 mins
Granola bars made with quinoa, oats, cashews and dried cranberries
1/2 cup tri-color quinoa
1 scant cup quick cooking oats
1 large pinch salt
1 1/2 tablespoons butter
1/2 tablespoon vegetable oil
2 tablespoons honey
2 tablespoons packed light brown sugar
1 teaspoon of vanilla
Small handful of cashews (I used salted)
Small handful of dried cranberries
Preheat oven to 350 degrees and line a 9x5 inch metal loaf pan with nonstick foil or parchment paper. Set aside.
Rince ½ cup of quinoa using your favorite method. I like to put it in a bowl, cover it with water, dump it all into a sieve, then rinse some more. Let the quinoa air dry a bit on paper towels.
Heat the saucepan over medium and add the quinoa. Stir it every so often until you hear it pop. Using my gas stove, this takes about five minutes. If nothing is happening, raise the heat. Depending on what kind of stove you have, this process will vary.
Dump the toasted quinoa, into a separate bowl and toss in the oats and salt.
In the saucepan you used to toast the quinoa, melt the butter over medium heat. Reduce heat to low and add oil, sugar and honey. Stir until sugar is dissolved, then remove from heat. Stir in vanilla. Add the quinoa mixture and stir to coat, then stir in the cashews and cranberries. Pour batter into the lined loaf pan and press it down. Let it cool at room temperature, then transfer to the refrigerator. When bar is firm, lift from pan and cut into bars.
Note: Bars will not hold together if you attempt to cut them while warm. They need to be cool. However, if you get them TOO cold in the refrigerator, it's possible they'll break. The best time to cut them is when they are completely cool but not yet cold.
Recipe by
Cookie Madness
at http://www.cookiemadness.net/2013/06/toasted-quinoa-cashew-cranberry-bars/