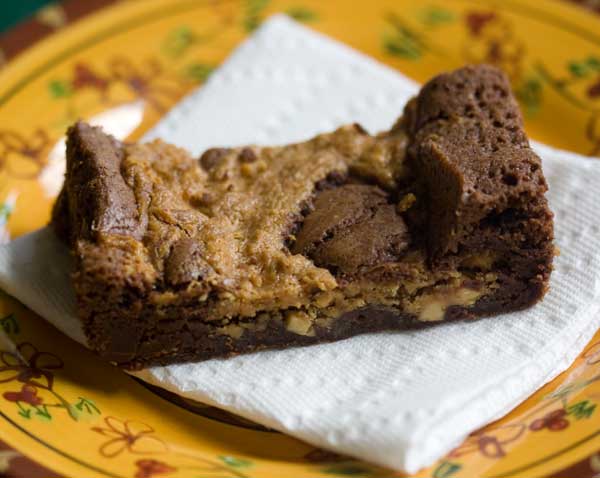 Loaf Pan Peanut Butter Swirl Brownies
Author: Cookie Madness
Prep time: 10 mins
Cook time: 25 mins
Total time: 35 mins
Small batch of peanut butter swirled brownies made in a loaf pan
1/3 cup unsalted butter
1 cup plus 2 tablespoons semisweet or dark chocolate chips
1 large egg
1 teaspoon vanilla extract
1/3 cup granulated sugar
2 tablespoons plus 2 teaspoons all-purpose flour (.8 oz)
1/2 teaspoon baking powder
1/4 teaspoon plus a pinch of salt. If using salted butter, use only a pinch
Another tablespoon of chocolate chips
2 tablespoons plus 2 teaspoons peanut butter
1 generous tablespoon corn syrup
Line an 8 ½ by 4 ½ inch or a 9x5 inch loaf pan with nonstick foil or parchment paper. Preheat oven to 350 degrees F.
In a microwave safe bowl, heat the butter for 30 seconds on high. Add the chocolate chips and stir to coat them with butter. Heat on high again for 30 seconds and stir until chips are melted. If chips aren't fully melted after you've stirred them, microwave for another 10 seconds. Set aside to cool slightly.
In a mixing bowl, stir or whisk together the egg, vanilla and sugar. Add the chocolate to the egg mixture and stir until blended.
Mix the flour, baking powder and salt together in a little cup, then stir into the batter until absorbed. Make sure the batter is cool, then stir in another tablespoon of chocolate chips.
Soften the peanut butter for about 5-10 seconds in the microwave. Stir in the corn syrup. Drop little spoonfuls over the batter and pull a knife through very gently to make a marbled or ripple pattern.
Bake the brownies in the lower center of the oven for about 25 minutes. Let cool, then chill thoroughly. Lift from pan and cut into squares.
I found the original 9x13 pan version in a collector's issue of Cooking With Paula Deen magazine.
Recipe by
Cookie Madness
at http://www.cookiemadness.net/2013/06/loaf-pan-peanut-butter-swirl-brownies/