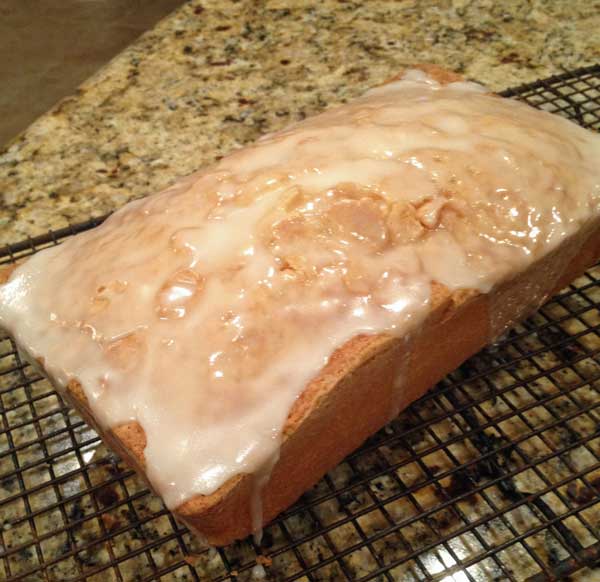 Lemon Sour Cream Pound Cake
Author: Cookie Madness
Prep time: 20 mins
Cook time: 120 mins
Total time: 2 hours 20 mins
A lemon pound cake that gets its flavor from ground lemon peel and sour cream. This one is adapted from Southern Living's "Smoothest Southern Pound Cake".
2 large lemons
3 cups (588 grams) granulated sugar
2 sticks (230 grams) unsalted butter, cool room temperature
3/4 teaspoon kosher salt (omit if using salted butter)
3 cups (300 grams) sifted cake flour
1/4 teaspoon baking soda
6 large eggs, separated
1/2 teaspoon vanilla extract
1 cup sour cream
Lemon Icing
2 tablespoons (28 grams) butter
3 tablespoons fresh lemon juice
2 cups (230 grams) confectioners' sugar
Preheat oven to 300 degrees F. Grease and flour a 10 inch tube, 12 cup Bundt or 2 loaf pans.
With a knife, cut the yellow part off the lemons. That is, shave it so you don't get too much of the rind underneath. You should be left with two lemons covered in white. Squeeze the juice out of the lemons and reserve 2 tablespoons.
Put half of the lemon peel shavings in a coffee grinder, spice grinder or mini chopper with ¼ cup of the sugar. Grind well and pour into a bowl. Repeat with remaining lemon and another ¼ cup sugar. Combine lemon sugar with the rest of the sugar and set it aside.
In the bowl of a stand mixer, beat the butter for 2 minutes until it is very creamy. Gradually add the lemon/sugar mixture at medium speed. Increase speed and beat for about 7 minutes.
Meanwhile, combine sifted flour and baking soda. Reduce mixer speed to low and add cake flour mixture, 1 cup at a time. Batter will be very thick. Add egg yolks and stir until mixed, then add vanilla and reserved lemon juice and stir well. Stir in the sour cream.
In a separate bowl, beat the egg whites until they are just about stiff (but not too stiff, or they'll be harder to fold). Fold in1/3 of the beaten egg white to lighten batter, then fold in remaining.
Pour into pan and bake at 300 for 2 hours. If you are using loaf pans, bake for 1 ½ hours. Let cool for 30 minutes in the pan, then carefully remove from the pan and let cool completely.
To make the glaze, put the butter in a microwave-safe bowl and heat until it is melted. Stir in the lemon juice, then add a couple of spoonfuls of powdered sugar and stir until smooth. Keep adding sugar, stirring well, until the icing is a good drizzling consistency. To test, hold some in a spoon and let it fall back into the cup. Hold the measuring cup of the cake and drizzle it decoratively down sides.
This pound cake was really good, but if you plan on making it in loaf pans, you should know that it probably won't have a big dome in the middle. It still tastes good, but I think this is batter is better suited for a tube pan or Bundt pan.
Recipe by
Cookie Madness
at http://www.cookiemadness.net/2013/09/lemon-sour-cream-pound-cake/