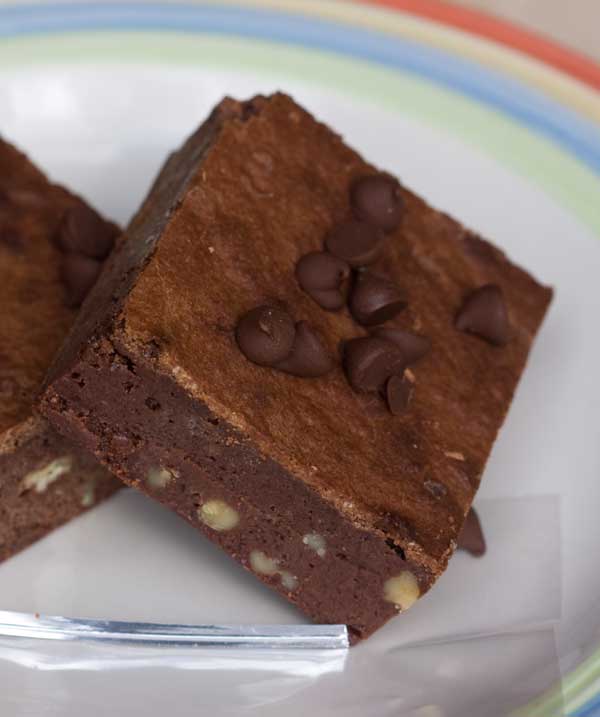 Updated Palm Beach Brownies
Author: Cookie Madness
Prep time: 20 mins
Cook time: 35 mins
Total time: 55 mins
Thick, Crusty, Fudge Brownies
2 sticks (8 oz) unsalted butter
8 oz unsweetened chocolate, chopped – Ghirardelli or Sharffen Berger
5 large eggs
2 teaspoons pure vanilla extract
1/2 teaspoon salt
2 teaspoons instant coffee or a packet of Black Silk or other instant
3 3/4 cup granulated sugar (I like using evaporated cane juice crystals)
1 2/3 cup (7 ½ ounces) unbleached all-purpose flour
2 cups walnuts, toasted and broken into pieces
handful of chocolate chips for the top (optional)
Adjust an oven rack one-third up from the bottom and preheat oven to 425 degrees. Line a 9x13x2-inch metal pan with nonstick foil or parchment paper.
Melt the butter and chocolate together in a saucepan set over low heat or in a microwave-safe bowl, using 50% power and stirring every 30 seconds.
In the bowl of a stand mixer fitted with a whisk, beat the eggs with the vanilla, salt, coffee and sugar at high speed for 10 minutes. On low speed, add the chocolate mixture and beat only until mixed. Stir in the flour using lowest speed of mixer, then remove from mixer and stir in the nuts.
Pour the batter into the prepared pan. Bake for 35 minutes, reversing the pan from front to back once to ensure even baking. Halfway though, lay a sheet of heavy duty foil over the top of the brownies to prevent the top from burning. At about 25 minutes the brownies will start to smell really good and you might be tempted to take them out, but try to hold out and keep them in the whole 35 minutes. If your oven is calibrated properly, you won't overbake them.
While brownies are baking, fill a roasting pan about an inch full with ice water.
Remove the pan from the oven, scatter chips across the top (if using) and immediately set pan in the ice water. Let the brownies cool down in the ice water bath for about 30 minutes, then transfer to the refrigerator or the freezer and chill overnight.
The next day lift the brownies from the pan and peel away the parchment paper or the foil. Cut into large squares.
This recipe is adapted from one by Maida Heatter.

I've never made these in a glass pan, but if you try it, make sure to reduce the temperature by 25 degrees F. I think using a glass pan might give the brownies a thicker crust.

Also, cutting them into 24 pieces or 16 pieces is a suggestion. These are dense and heavy, so you may be satisfied with 1/48 or even smaller.
Recipe by
Cookie Madness
at http://www.cookiemadness.net/2013/11/updated-palm-beach-brownies/