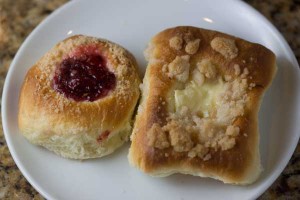 Kolaches With Sour Cream Dough
Author: Cookie Madness
Prep time: 30 mins
Cook time: 150 mins
Total time: 3 hours
A pillow soft kolache recipe with sour cream in the dough. Recipe also includes a crumb topping and cream cheese filling, but these are always great with good preserves or canned fruit pie filling.
Dough
4 tablespoons unsalted butter, cut into chunks (56 grams)
1/2 cup milk, whole best but reduced fat okay
1/4 cup water
1/2 cup sour cream, full fat
3 cups bread flour, divided use (380 grams) -- or as needed
1 package Red Star Platinum yeast
1/3 cup sugar (65 grams)
1 teaspoon salt
1 large egg
2 tablespoons melted butter or shortening for brushing
Crumb Topping
1/3 cup sugar
2 1/2 tablespoons flour
1/8 teaspoon cinnamon
4 teaspoons melted butter
Cream Cheese Filling
8 oz softened cream cheese (230 grams)
1/4 cup sugar (50 grams)
1 egg yolk
Pinch of lemon zest
1/2 teaspoon vanilla
Put the butter, milk, water and sour cream in saucepan set over medium heat. Bring to a boil, then let cool to 130 degrees. When cool, you can add a dash of vanilla or butternut extract if you want (totally optional).
While milk mixture is cooling, put 2 cups of the bread flour, yeast, sugar and salt in a mixing bowl -- - preferably a stand mixer so you can use your dough hook. Gradually add the milk mixture and stir until mixed, then stir in the egg. From this point, add remaining flour by quarter cups until you have a soft dough. This dough is slightly sticky, though it should be less so after kneading. I used exactly 3 cups or 13.5 ounces.
Put the bowl on the mixer stand and knead with the dough hook until it is smooth and elastic. The dough might stick a little as it kneads.
Transfer to a well- greased bowl. Cover and let rise until doubled in bulk, about 1 hour.
Punch dough down and turn out onto lightly floured surface. Pinch off 16 equal size portions and shape into little balls or blobs. Alternatively, you can pat the dough into a big rectangle and cut into squares if you want square kolaches. Place 8 balls (or squares) on each of two parchment lined 13x9 inch pans spacing about an inch apart. Alternatively you can do this on baking sheets. Brush with melted butter or shortening for less browning.
Cover loosely with a greased sheet of plastic wrap and let rise for an hour.
While rising, mix together ingredients for the topping and filling.
Make an indentation in each risen ball and fill with about a tablespoon of cream cheese filling. Brush gently with butter and sprinkle the topping over the bun and filling.
Preheat the oven to 400 degrees F and let the buns sit while the oven preheats.
Bake for about 15 minutes at 400F. Let cool slightly before serving. The ones filled with fruit are really good hot, but the cream cheese ones are better warm or even at room temperature.
I added a tiny dash of McCormick Imitation Butternut & Vanilla Extract. I have to order it through Amazon, but some stores on the East Coast sell it.
Recipe by
Cookie Madness
at http://www.cookiemadness.net/2014/01/kolaches-with-sour-cream-dough/