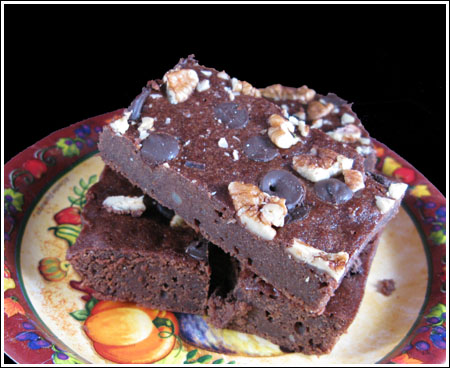 Double Chocolate Mashed Potato Brownies
Author: Cookie Madness
Prep time: 10 mins
Cook time: 25 mins
Total time: 35 mins
DOUBLE CHOCOLATE POTATO BROWNIES
6 oz unsalted butter
3 ounce squares unsweetened chocolate
1-1/2 cups granulated sugar
4 eggs, room temperature
1 teaspoon vanilla extract
3/4 teaspoon salt
1 cup mashed potatoes, unseasoned (meaning no onion or garlic)
1 cup all-purpose flour (120 grams)
3/4 cup semi-sweet chocolate chips
3/4 cup chopped walnuts or pecans
Preheat oven to 350°F. Line a 13x9 inch metal pan with foil and grease foil.
Melt butter and chocolate in a medium saucepan over low heat until smooth. Let cool 15 minutes.Stir in sugar, eggs, vanilla and salt. Stir in mashed potatoes until smooth.
Add flour and stir to combine. Pour into prepared baking pan.
Sprinkle with chocolate chips and nuts. Bake until brownies feel firm when lightly touched, about 25 to 30 minutes (for half batch, bake 22 minutes). Cool on rack. Cut into squares to serve. Store in a container that allows air – airtight containers will be soggy.
Recipe by
Cookie Madness
at http://www.cookiemadness.net/2008/11/double-chocolate-mashed-potato-brownies/