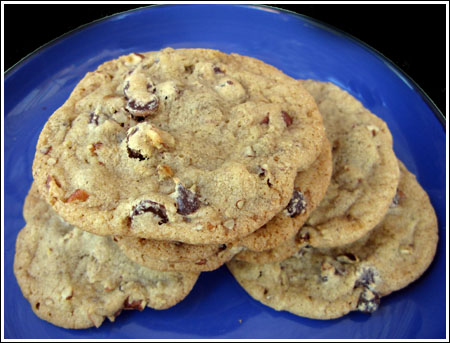 A Popular Chocolate Chip Cookie Recipe
Author: Cookie Madness
Prep time: 10 mins
Cook time: 18 mins
Total time: 28 mins
Chewy, sweet, chocolate chip cookies
1/2 cup (100 grams) granulated sugar
1/2 cup (120 grams) very firmly packed light brown sugar
8 tablespoons (1 stick) (115 grams) unsalted butter, cold, cut up
1 large egg
1 teaspoon vanilla extract
1/2 teaspoon baking soda
1 1/3 cups (175 grams) all-purpose flour
1/4 teaspoon plus an extra pinch of salt (I used a scant 1/2 teaspoon)
1 1/3 cups semisweet chocolate chips
3/4 cups pecans, toasted and chopped
Adjust the oven rack to the top third of the oven and preheat to 300F (150C).
Cream cold, cut up butter and sugar with an electric mixer. When smooth, beat in the egg, vanilla, baking soda and salt. Scrape sides of bowl and make sure salt & soda are well distributed, then add the flour and stir by hand until it has almost disappeared. Add the chocolate chips and toasted nuts and stir until mixed in.
Shape the dough into 2 inch balls and place about 3 to 4 inches apart on parchment lined cookie sheets. Press tops down slightly. Bake for 18 minutes** or until cookies are a golden brown. Remove from the oven and cool on a wire rack.
Makes about 16 big cookies
**Mine took almost 22 minutes.
Recipe by
Cookie Madness
at http://www.cookiemadness.net/2009/03/a-popular-chocolate-chip-cookie-recipe/