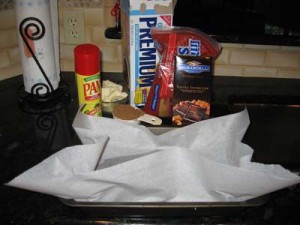 Author: Cookie Madness
Prep time: 10 mins
Cook time: 5 mins
Total time: 15 mins
An easy candy made by pouring a hot sugar mixture over Saltine crackers.
1 sleeve of Saltines or enough to cover a 10x15 inch pan
1 cup (2 sticks) butter
1 cup light brown sugar
12 ounces chopped semisweet chocolate or 2 cups of chocolate chips
1/2 cup toasted and chopped pecans or almonds
Preheat oven to 400 degrees F.
Line a 10x15 inch pan with nonstick foil or parchment paper.
Lay Saltines side-by-side over bottom of pan - sides touching.
Combine butter and salt in a large saucepan and bring to a gently boil. If the butter is cold, let it melt before adding the sugar. When mixture starts to boil, set timer for 3 minutes and boil, stirring constantly. Pour over crackers and spread evenly.
Bake in oven for 5 minutes. Quickly sprinkle chocolate over hot candy and let stand for about 3 minutes or until chocolate starts to melt. Spread chocolate over crackers, then sprinkle with nuts. Note: If chocolate isn't melting fast enough for you, throw the pan in the oven for a minute.
Let cool at room temperature for about an hour, then transfer to the refrigerator to chill and set.
Recipe by
Cookie Madness
at http://www.cookiemadness.net/2006/06/cracker-candy/