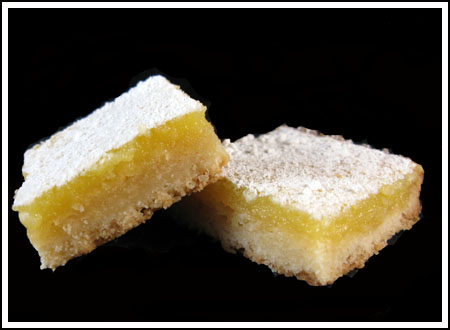 Lemon Squares with European Style Butter
Author: Cookie Madness
Lemon squares on a crust made with European style butter
Crust
1 stick (4 oz /114 grams) European style salted butter, room temperature
1/4 cup powdered sugar (25 grams)
1 cup (4.5 ounces/130 grams) all-purpose flour
Filling:
2 large eggs
3/4 cup plus 2 tablespoons granulated sugar 170 grams
2 teaspoons lemon zest
2 tablespoons all-purpose flour
1/4 cup plus 1/2 tablespoon fresh squeezed lemon juice
Preheat oven to 350 degrees F (176 C). Line an 8 inch metal pan with non-stick foil or line with foil and spray foil with cooking spray.
Beat the butter and powdered sugar together until creamy. Add flour and stir until moistened – mixture won't be uniform, but rather raggedy and unattractive. Press into pan. I use damp hands to do this. Bake on center rack for 20 minutes.
Meanwhile, beat eggs with a fork or spoon until yellow. Beat in the sugar and zest, then gently stir in the flour until it disappears. Stir in the lemon juice and pour the mixture over the hot baked crust.
Return pan to oven and bake on center rack for another 20 minutes. Let cool for about 20 minutes, then dust top with powdered sugar. Lift from pan and cut into 16 squares.
If you decide to use regular unsalted butter, add about 1/4 teaspoon of salt to the crust mixture.
Recipe by
Cookie Madness
at https://www.cookiemadness.net/2009/06/lemon-squares-with-european-style-butter/