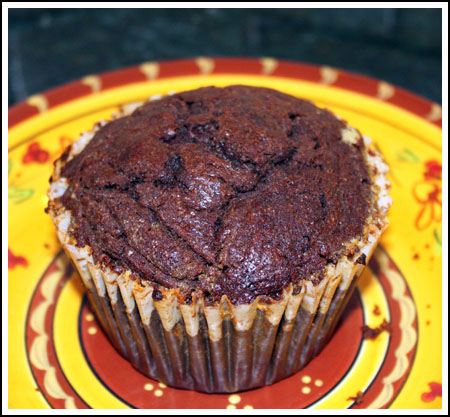 Jumbo Chocolate Muffins with Pumpkin
Author: Cookie Madness
Prep time: 10 mins
Cook time: 28 mins
Total time: 38 mins
Jumbo muffins with pumpkin for added fiber.
1 3/4 cups whole wheat pastry flour (220 grams) – weigh or spoon and sweep
2/3 cup unsweetened cocoa powder
1 teaspoon baking soda
1 teaspoon baking powder
3/4 teaspoon salt
1 1/4 cups lightly packed light brown sugar
8 oz canned pumpkin (about a cup)
2 large eggs
2/3 cup milk
1 teaspoon vanilla
8 tablespoons unsalted butter, melted and slightly cooled
3/4 cup semisweet chocolate chips
Heat oven to 400 degrees F. Line 6 jumbo muffin cups with paper liners.
Mix the flour, cocoa powder, baking soda, baking powder and salt together in a bowl.
Stir the brown sugar around in a second bowl and mash out any lumps. Stir in the pumpkin, eggs, milk, and vanilla and mix well. Pour the dry mixture into the pumpkin mixture and stir a few strokes, then pour the melted butter in and stir (never over-beat muffin batter) until blended.
Stir in the chocolate chips. Reduce oven heat to 375 degrees F. Divide batter equally among muffin cups and bake for 23-26 minutes or until a toothpick or chopstick inserted in center comes out clean.
You can make these as regular size muffins as well. Check them at 18 minutes.
Recipe by
Cookie Madness
at http://www.cookiemadness.net/2010/01/jumbo-chocolate-muffins-with-pumpkin/