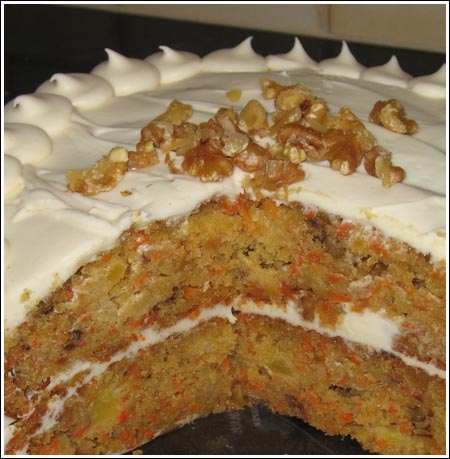 Moist and Dense Carrot Cake
Author: Cookie Madness
Prep time: 10 mins
Cook time: 35 mins
Total time: 45 mins
Dense and Moist Carrot Cake
3 cups shredded carrots
1 cup granulated sugar
1 cup light brown sugar, packed
1/2 cup vegetable oil
1/2 cup melted butter
1 teaspoon vanilla extract
4 large eggs
1/2 cup well-drained crushed pineapple (about 1 cup before draining)
2 teaspoons grated fresh ginger (optional)
2 cups all purpose flour
1 teaspoon baking powder
1 teaspoon baking soda
1 teaspoon ground cinnamon
1/2 teaspoon salt
1/2 cup chopped, toasted walnuts or pecans
Frosting: (Updated -- people said the other one was too stiff.  This one is great!)
16 oz of softened cream cheese
4 oz of unsalted or salted butter, softened
2 cups confectioners sugar (more if desired)
1 teaspoon of vanilla
milk (if needed)
Preheat oven to 350 degrees F. Spray 2 (8 inch) round cake pans with flour-added cooking spray or spray a 13x9 inch pan with cooking spray. If using 8 inch pans, you might want to line bottom with parchment because this cake is sticky.
In a large plastic bowl mixing bowl, stir together carrots and both sugars. Let sit for about 10 minutes; the sugar will form a juice. Stir in oil, melted butter, eggs, vanilla, pineapple and fresh ginger.
Stir together flour, baking powder, baking soda, cinnamon and salt. Stir flour mixture and toasted nuts into carrot mixture. Pour into prepared pans or pan.
Bake for 30-35 minutes (13x9 inch pan might take longer) or until tester comes out clean. Let cool for 10 minutes, then turn from pans if using 8 inch. The cake is fairly delicate, so be careful. Cool completely and prepare frosting.
Beat together cream cheese, butter and vanilla. Stir in sugar, then beat until fluffy and light. Frost Cake.
Recipe by
Cookie Madness
at http://www.cookiemadness.net/2006/10/moist-and-dense-carrot-cake/