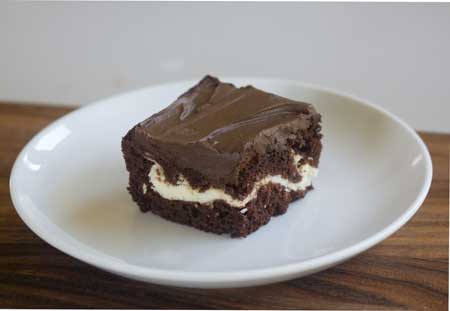 Favorite Chocolate Frosting
Author: Cookie Madness
Prep time: 10 mins
Cook time: 1 min
Total time: 11 mins
If I have unsweetened chocolate in the house, this is the frosting I use. It's pretty easy to make, but be sure your butter is soft (though not melted) and not too cool, and that your milk is room temperature, otherwise the cold milk and butter may cause the melted chocolate to clump a little. Also, chocolate chips can be substituted for the semisweet chocolate, but I get a much tastier, creamier frosting when I use actual semisweet or bittersweet chocolate as opposed to chips.
2 oz unsweetened chocolate
2 oz semisweet chocolate, chopped
2 sticks (8 oz) unsalted or salted butter
1/4 cup unsweetened natural cocoa powder
4 cups sifted powdered sugar (3 1/2 cups unsifted) or about 1 pound
1/4 cup milk plus more if needed — can use buttermilk or half & half
2 teaspoons vanilla
Pinch or two of salt if using unsalted butter
Melt both chocolates in microwave or double boiler and set aside to cool for about 30 minutes. Beat the butter until creamy. Stir in the cocoa power, about a cup of the powdered sugar, and the cooled melted chocolate. Scrape sides of bowl and beat well. Add remaining powdered sugar, then add milk, vanilla and salt, beating and scraping until you get the consistency you like
Make sure ingredients aren't too cool.
Recipe by
Cookie Madness
at http://www.cookiemadness.net/2010/04/favorite-chocolate-frosting/