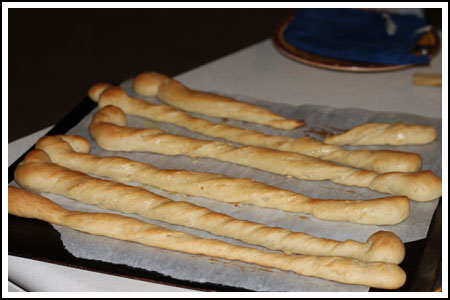 Author: Cookie Madness
Total time: 2 hours 20 mins
An easy recipe for breadsticks made with quick rising yeast
3 cups bread flour or all purpose flour (13.8 oz)
1 packet fast rising yeast (instant yeast)
3 tablespoons brown sugar
1 teaspoon salt
1 cup warm water
1/4 cup vegetable oil
optional -- 2 tablespoons melted butter mixed with a clove of crushed garlic or garlic powder
Mix the flour, yeast, brown sugar and salt together in bowl of a stand mixer. Add the water and stir until almost blended, then add the oil and stir well. Using the dough hook (you can also do it by hand, of course), knead until smooth and elastic. With the dough hook, this is only takes a few minutes.
Rub a second bowl with olive oil. Turn dough into bowl. Cover with plastic wrap, set in a warm place and let rise for 30 minutes. Punch down dough. Roll out into a 10x12 inch rectangle. Cut into strips (I cut mine lengthwise for long bread sticks) about 3/4 inch wide. Twist the strips and place on a greased or parchment lined cookie sheet. Let rise for 20-30 minutes. Bake at 375 for 15-20 minutes. Brush with butter or garlic butter.
Not sure of the yield because I always end up making my breadsticks different sizes, but you should be able to get at least 12.
Recipe by
Cookie Madness
at http://www.cookiemadness.net/2010/05/quick-soft-breadsticks/