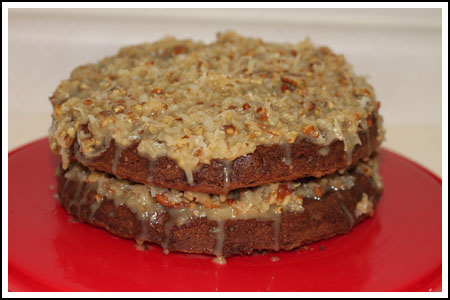 Small German Chocolate Cake
Author: Cookie Madness
Prep time: 20 mins
Cook time: 30 mins
Total time: 50 mins
An 8-inch round German Chocolate Cake. Not too big, not too small!
Cake
1/4 cup water
3 oz German's sweet chocolate, coarsely chopped
1 1⁄4 cups cake flour, sifted before measuring
1/2 teaspoon baking soda
1⁄4 teaspoon salt
2 large eggs, separated – room temperature
3/4 cup plus 2 tablespoons sugar – divided use
4 oz unsalted butter, room temperature
3/4 teaspoon vanilla extract
1/2 cup buttermilk, room temperature
Icing:
6 tablespoons unsalted butter
1/2 cup granulated sugar
1/4 cup brown sugar, lightly packed
2 large egg yolks, lightly beaten with a fork
3/4 cup evaporated milk
3/4 teaspoons vanilla
1 pinch of salt
3/4 cups chopped toasted pecans
3 ½ oz (weight) sweetened shredded coconut
Boil the water in a small saucepan or large microwave-safe measuring cup. Remove from heat and add the chocolate. Stir until melted and smooth, then let sit for about 20 minutes to cool down.
Meanwhile, preheat oven to 350 degrees F.
Spray 2 8-inch round cake pans with flour-added baking spray and line bottoms with rounds of parchment.
Stir together the already-sifted cake flour, baking soda and salt.
In bowl of a stand mixer, whip the egg whites until peaks are almost stiff. Beat in 2 tablespoons of the sugar. Scrape the whites into a second bowl while you prepare the batter in the bowl you just used to whip the whites.
Cream the butter with the sugar until light and fluffy. Beat in the egg yolks one at a time, followed by the vanilla extract. Beat well and scrape sides of bowl. Turn the mixer to low and beat in the melted chocolate. On lowest speed or by hand, stir the flour mixture and buttermilk into the batter alternately, starting with the flour mixture and ending with the flour mixture.
Fold about 1⁄3 cup of the batter into the egg whites, then fold the egg whites into the batter, keeping it as light as possible.
Divide the batter between the two cake pans and bake in the middle of the oven for 28-30 minutes; test it with a toothpick a few minutes before. Cool the cakes for about 5 minutes. Turn from pan onto wire rack. Remove parchment and finish cooling.
Prepare frosting:
Melt the butter in a heavy saucepan.
Whisk the sugar and egg yolks together off heat, then add to the butter in saucepan, followed by the evaporated milk. Cook mixture over low to medium low heat, stirring constantly until mixture thinly coats the spoon – you should get a trail when you run your finger down the side of the spoon (this could take anywhere from 5 to 10 minutes). It won't be anywhere near as thick as pudding. Pour this mixture through a strainer into a clean bowl. Stir in the vanilla. Lay a small piece of parchment paper over the top as you would if you were cooling pudding, and let cool at room temperature for about 40 minutes. Stir in the coconut and pecans and transfer to refrigerator to chill and thicken (takes a few hours).
To assemble cake, spoon the icing over top and bottom layer and stack.
Recipe by
Cookie Madness
at http://www.cookiemadness.net/2010/07/small-german-chocolate-cake/