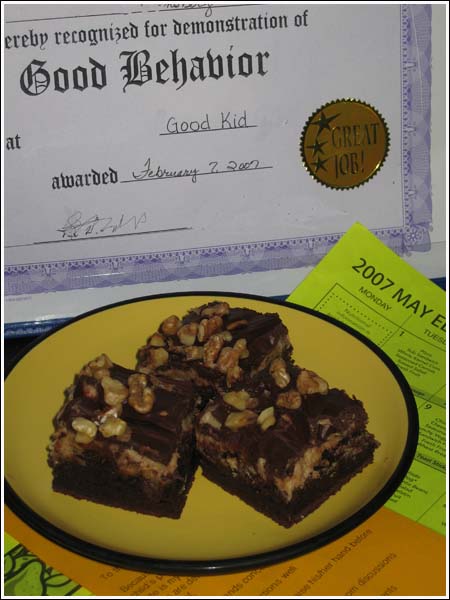 Chocolate Chip Cookie Dough Brownies
Author: Cookie Madness
Prep time: 20 mins
Cook time: 30 mins
Total time: 50 mins
Brownies with a layer of cookie dough running through them
Brownie Base:
2 sticks (16 tablespoons) unsalted butter
2 1/4 cups granulated sugar
1 1/4 cups Dutch process or Hershey's "Dark" cocoa
1 teaspoon salt - if using regular salted butter, decrease to 1/2 tsp.
1 teaspoon baking powder
4 large eggs
1 tablespoons vanilla
1 1/2 cups all purpose flour
3/4 cup semi-sweet chocolate chips
Filling:
12 tablespoons unsalted butter, softened
1/2 scant teaspoon salt (omit if using salted butter)
3/4 cup brown sugar, packed
6 tablespoons granulated sugar
3 tablespoons milk
1 tablespoon vanilla
1 1/2 cups (6.8 oz) all purpose flour, lightly spooned and swept
Topping:
1 1/4 cup semi-sweet chocolate chips
1 1/2 teaspoons butter or vegetable oil
1/4 cup lightly toasted chopped walnuts*
Preheat oven to 350 degrees F. Line a 13x9 inch pan with nonstick foil.
In a 3 quart saucepan, melt butter over medium heat. Stir in sugar and cook gently, stirring constantly, for about 1 minute or until sugar melts and mixture takes on a nice sheen. Add cocoa and stir until smooth.
Remove from heat. Let cool for about 5 minutes, then stir in the salt and baking powder. Stir in the eggs (one by one), then add the vanilla, flour and chocolate chips (make sure batter is cool before adding chips).
Spread batter in pan and bake for 25-30 minutes or until brownies are set. Let brownies cool on a rack for at least a half hour.
Prepare filling. Beat together butter, salt (if using), both sugars, milk and vanilla. Add flour and stir until flour is incorporated. Spread this mixture over cooled brownies and place in refrigerator for about 30 minutes to help firm up dough.
In a microwave-safe bowl or in a double boiler, melt chocolate and butter. If using a microwave, combine chocolate and butter and microwave on high for 30 seconds. Stir and repeat until melted. Spread melted chocolate mixture over cookie dough. Sprinkle walnuts over top. Allow chocolate to set, then lift from pan and cut into bars.
Recipe by
Cookie Madness
at http://www.cookiemadness.net/2007/05/chocolate-chip-cookie-dough-brownies/