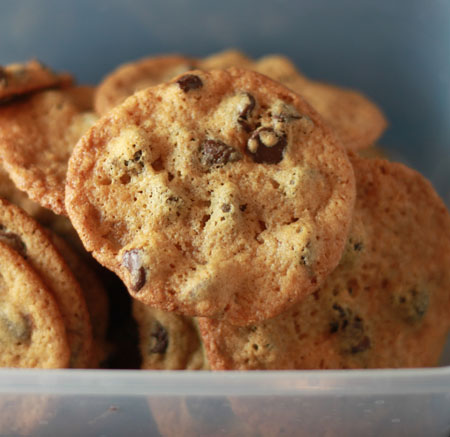 Malted Chocolate Chip Cookies
Author: Cookie Madness
Chocolate chip cookies with malted milk powder
Malted Chocolate Chip Cookies
2 cups all-purpose flour
1 teaspoon baking soda
1 teaspoon salt
1 cup (2 sticks) unsalted butter, cold and cut into pieces
3/4 cup light brown sugar
3/4 cup granulated sugar
1 teaspoon vanilla extract
2 large eggs
1/2 cup malted milk powder (such as Carnation or Horlick's)
2 cups semisweet chocolate chips
Preheat oven to 350 degrees.
Sift together the flour, baking soda and salt and set aside
In the bowl of a stand mixer with the paddle attached, beat the butter and both sugars for about 3-5 minutes or until very light. Reduce speed slightly and add the vanilla and eggs, beating just until mixed. Add the malt powder and mix at low speed just until combined. One-third at a time, add the flour mixture, beating after each addition just until combined. Gently mix in the chocolate chips. Drop by tablespoons onto the baking sheets.
to 10 (mine took 10-12 minutes), depending on how crispy you like your cookies. The cookies will be flat. Let cool on the cookie sheets for about 5 minutes or until sturdy enough to remove, then transfer to wire racks to finish cooling.
The yield is approximate -- it could be anywhere from 36 to 42
Recipe by
Cookie Madness
at http://www.cookiemadness.net/2010/09/malted-chocolate-chip-cookies-2/