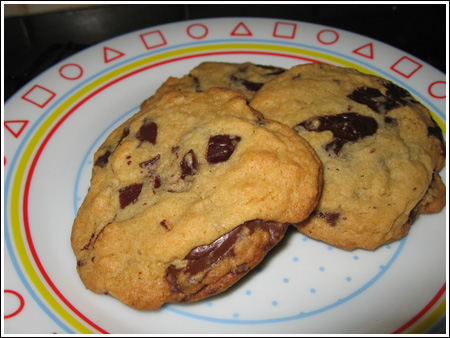 Jacques Torres' Secret Chocolate Chip Cookie Recipe
Author: Cookie Madness
Prep time: 15 mins
Cook time: 12 mins
Total time: 27 mins
The famous New York Times chocolate chip cookie recipe adapted from Jacques Torres
1/2 pound unsalted butter, room temperature
1/2 cup plus 6 tablespoons granulated sugar
1 cup plus 2 tablespoons light brown sugar, packed
2 large eggs
1 1/2 teaspoons vanilla
1 1/2 cups plus 1 tablespoon pastry flour
1 1/2 cups bread flour
1 teaspoon baking powder
1 teaspoon baking soda
1 1/2 teaspoons salt
1 pound good quality dark chocolate, chopped coarsely
Preheat oven to 350 degrees. Line baking sheets with parchment paper or nonstick baking mats; set aside. Don't grease the baking sheets because this might cause extra spreading.
In the bowl of an electric mixer fitted with the paddle attachment, cream together butter and sugars. Add eggs, one at a time, mixing well after each addition. Reduce speed to low and add vanilla, then add both flours, baking powder, baking soda, salt and chocolate; mix until well combined.
Using a 4-ounce scoop for larger cookies or a 1-ounce scoop for smaller cookies, (I used a very generously rounded tablespoon) scoop cookie dough onto prepared baking sheets, about 2 inches apart. Bake until lightly browned, but still soft, about 20 minutes for larger cookies and about 15 minutes for smaller cookies. If you use a rounded tablespoon, check your cookies at 12 minutes. Cool slightly on baking sheets before transferring to a wire rack to cool completely.
If you use a very generously rounded tablespoon or a 1 scoop, you'll get about 4 dozen cookies.
Recipe by
Cookie Madness
at http://www.cookiemadness.net/2007/09/jacques-torress-secret-chocolate-chip-cookie-recipe/