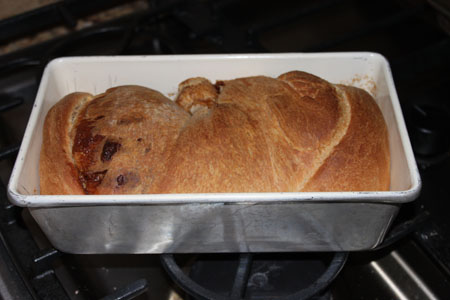 Author: Cookie Madness
Prep time: 20 mins
Cook time: 30 mins
Total time: 50 mins
Cinnamon Swirl Bread
2 cups all-purpose flour (9 oz)
2 tablespoon granulated sugar
1/2 teaspoon salt
1 teaspoon cinnamon
½ of a (.25 ounce) envelope active dry yeast (about 1 ½ teaspoons)
2 tablespoons lightly beaten egg
2 tablespoons melted butter
1/2 cup plus 2 tablespoons warm milk (110 degrees F/45 degrees C)
3/4 teaspoon vanilla extract
Filling:
3 tablespoons melted butter for brushing
1 teaspoon ground cinnamon
1/3 cup brown sugar
Place flour, sugar, salt, cinnamon, and yeast into the bowl of a stand mixer. In a bowl, whisk together egg, melted butter, warm milk, and vanilla extract; pour into the flour mixture. Using dough hook attachment, mix on low until the flour is moistened and a dough forms, then increase speed to medium, and continue kneading until smooth and elastic, 4 to 5 minutes.
Place dough into a greased bowl, cover, and allow it to rise in a warm place until doubled in bulk, about 1 1/2 hours.
Punch down dough and turn out onto a floured work surface. Roll into a 1/3 inch thick rectangle (mine was about 10-12) and brush with melted butter. Mix together cinnamon and brown sugar, then sprinkle evenly over rectangle.
Roll firmly into a log, pinch the ends closed, and tuck them underneath. Place into a greased loaf pan (I used a metal 9x5 inch). Cover, and allow to rise in a warm place until doubled in bulk, about 45 minutes. Note: In my case, the log was much narrower than the loaf pan, but during the baking process it spread enough to fill it up.
Preheat oven to 350 degrees F (175 degrees C).
Brush the top of the loaf with melted butter, then bake in preheated oven until golden brown, and sound hollow when tapped, about 30 minutes.