An ingredient I've had a lot of fun with this year is baker's ammonia. Baker's ammonia, also known as hartshorn, is a specialty leavening agent made of ground deer antlers. It is often called for in old German and Scandinavian recipes, as it imparts an unbelievable crispness you won't find in other cookies.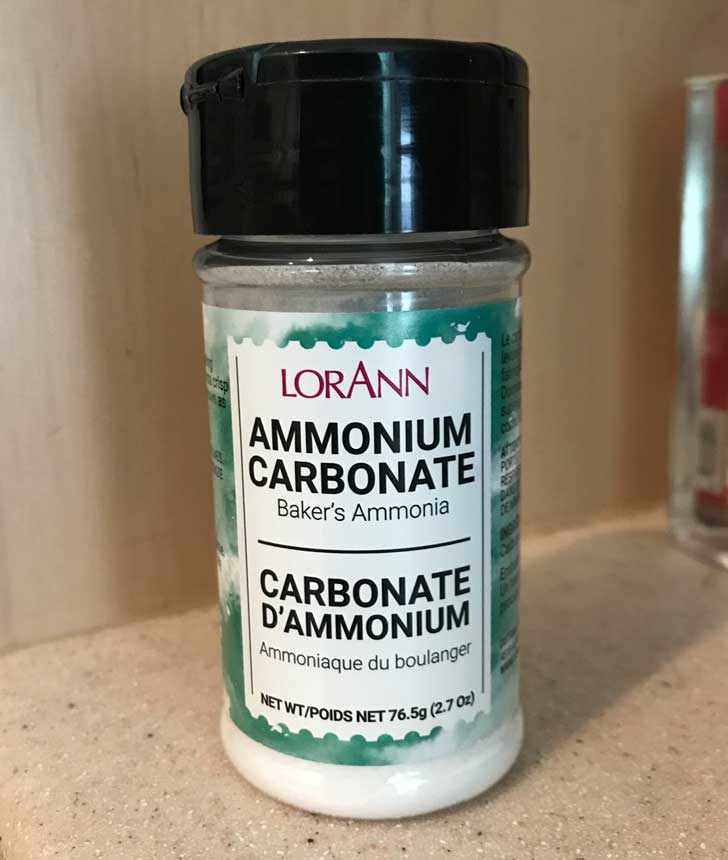 So far, I've used baker's ammonia in Swedish Dream Cookies (KA calls them Vanilla Dreams), and an oatmeal cookie recipe I made up but completely forgot. I've also used baker's ammonia in lemon wafers, but the recipe was somewhat disappointing due to what was probably operator error. I put the baker's ammonia away….until yesterday.
Baker's Ammonia Cream Puffs
Somewhere between 10:00AM and 1:00 yesterday, Emma developed a cold. Forced to cancel all our day's activities and lay low, I took some time to try baker's ammonia in another recipe — cream puffs.
Whipping up a batch of cream puffs reminded me just how easy they are. And it seems the antler powder really enhances the texture, giving the puffs crispy edges and a tender inside.
Cream puff shells are nice to have around. They freeze well and you can fill them with anything you wish. I filled a few of last night's cream puff with a mixture of pistachio pudding mix, milk and whipped cream. The rest are in the freezer waiting for their turn, and I have my eye on a few ice cream recipes already.
Here's the cream puff recipe I used. If you don't have the antler powder, just leave it out.
You can find it on Amazon or in the King Arthur Catalog.
Baker's Ammonia Cream Puff Shells
Cream Puff Shells (Also Good for Eclairs)
1 /2 cup water
2 tablespoons butter (28 grams)
2 tablespoons shortening (24 grams) — You can use more butter if you want
3/4 cup all-purpose flour (100 grams)
1/4 tsp. salt
1 tablespoon milk (14 grams)
3 eggs (150 grams)
1/2 tsp. Bakers' Ammonia (if you have it, otherwise just leave it out)
Preheat oven to 400 F.
Place water, butter and shortening in a saucepan and bring to a boil over medium heat. Add the flour and salt all at once and stir constantly with a wooden spoon until the mixture leaves the sides of the pan and forms a ball. Blend in the milk.
Remove pan from stove burner and stir in the eggs, one at a time, stirring until completely blended. Mix in the Baker's Ammonia
Drop onto lined cookie sheets about 3 to 4 inches apart. Bake 20 to 25 minutes. Let cool completely before filling.
Yield — 8