Named for their resemblance to French roofing tiles, Tuiles are thin and crispy cookies with a slight bend to them.  They're perfect for serving alone, with tea or coffee or as an accompaniment to ice cream.  This version from the book Small Batch Baking is particularly good because it calls for oatmeal.
The original recipe says to cook 4-5 minutes. It's easy to overcook tuiles, so you do have to be careful. However, mine weren't ready to come out of the oven until after 6-8 minutes in the oven — so watch your first batch carefully.
Another great addition to these cookies is a packet of finely crushed granola bars. Add whatever flavor granola bar you like to change the flavor of the cookies.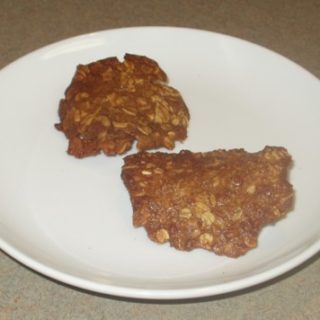 Oatmeal Tuiles From Small Batch Baking
This is a small batch recipe for Oatmeal Tuiles
Ingredients 
1

tablespoon

melted

unsalted butter

2

tablespoons

brown sugar

firmly packed

1/8

teaspoons

each

salt, nutmeg, cinnamon

1

tablespoon

lightly beaten egg white

1/8

teaspoon

almond extract

1

tablespoons

cake flour

2

tablespoons

old fashioned rolled oats

1

packet

2 bars any flavor granola bars (optional)
Instructions 
Place a rack in center of oven. Preheat to 425 degrees F.

Line a baking sheet with parchment or Silpat. Have ready a rolling pin and spatula.

In a small mixing bowl, stir together melted butter, sugar, salt, nutmeg, and cinnamon. Stir in egg white and almond extract. Add flour and stir until smooth. Stir in oats. If using crushed granola, stir in that as well.

Spoon 4 even mounds onto prepared cookie sheet. Moisten fingers and spread rounds into 3 inch circles. Bake cookies until edges turn golden brown - 4-5 minutes (mine took 6-8 minutes).

Remove from oven. Slide rounds onto rolling pin and let cool on rolling pin. When you remove them, they will be shaped like lovely French roofing tiles, tuiles.

Makes 4 -- with granola, makes about 6