Butterfinger Pie is a dessert I created on day when my dad was coming to dinner. He is a Jell-O pudding kind of a guy. He won't turn down cookies or a slice of cake, but he'll take a refrigerated pudding concoction over any of the above 90% of the time. So making a dessert for my father means choosing between a no-brainer like Dream Pie or the ubiquitous Éclair Cake or spending more time and energy on a more complicated dessert which he might not like as much as the old standbys.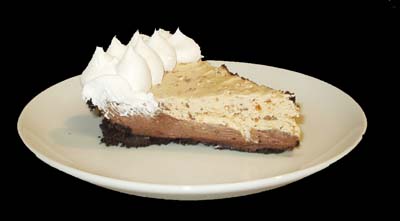 I've been pretty busy lately and haven't had a lot of time to think about new recipes. Still, I wanted to do something more unusual than a Jell-O dessert so I decided to play around with ingredients I had on hand. What I ended up with is Butterfinger Pie, which is somewhat "Moosewood meets Paula Deen". The bottom part is an Oreo crust, middle part is a popular Vegweb recipe, and the top part is a mutation of something off Recipezaar.
Plus this pie includes the entertainment value of seeing whether my dad and Todd will detect the tofu.
Chocolate Butterfinger Pie
Oreo Crust
12-15 Oreo cookies
2 tablespoons butter, melted
Filling
1 (12.6) oz package silken tofu (make sure you use the kind that says Silken)
1 1/2 teaspoon vanilla extract (divided)
1 (12 oz) package chocolate chips, semi-sweet
4 ounces cream cheese, softened
1/4 cup granulated sugar
1 tablespoon butterscotch flavored instant pudding OR I think 1 tab. peanut butter would work
2 Butterfinger Candy Bars, crushed
1 (8 oz) container Cool Whip, thawed (or you can whip 1 cup of cream, of course)
Preheat oven to 350 degrees F. Grease a 9 inch deep dish pie plate.
Place Oreos in food processor and process into crumbs. Add melted butter. Empty Oreo/butter mixture into pie plate and press into bottom. Bake for 8-10 minutes.
Clean food processor bowl and process tofu until it is very smooth. Add 1 teaspoon of the vanilla.
Melt chocolate chips in microwave or over stove. Add melted chocolate to tofu and process until smooth. Spoon into baked pie crust.
In a mixing bowl, beat cream cheese, sugar, remaining 1/2 teaspoon vanilla and pudding mix (or peanut butter) until creamy and smooth. Fold in crushed Butterfingers. Fold in half of the whipped topping. Spoon over center of pie, leaving a border of about 1/2 inch.
Place remaining whipped topping in a zipper bag, cut off bottom corner, pipe remaining Cool Whip around edges. Chill for at least 4 hours.
Makes 10 servings