One nice thing about staying at a Doubletree Hotel is having warm chocolate chip cookies handed to you at check-in. Cookies are such a nice thing to enjoy after hours on the road or in the air….or any time really.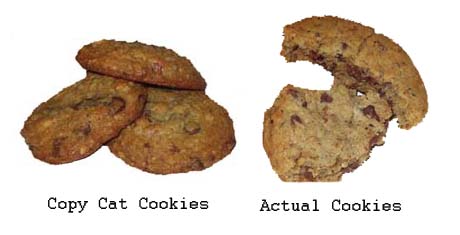 Today I felt like making a batch of Doubletree copy cat cookies while the taste of the actual Doubletree cookies was still fresh in my mind. I am happy to say this version is indeed, very similar if not identical to the hotel's.
Here's the photo of a cookie from this morning next to an actual Doubletree cookie. I substituted toasted pecans for the walnuts. Other than that, I stayed true to the recipe.  UPDATE:  I've since found a recipe I like even more than this one!  The recipe is called Christie Cookies and it's supposed to be the recipe used by Doubletree.
Update: I recently noticed that this recipe is almost the same as the old Sunset recipe, Chocolate Chip Cookies at Their Best. The Sunset recipe is half of this and instead of all butter, uses a mixture of butter and shortening. I recommend using the Sunset recipe, as the shortening helps give the cookies a better overall structure. Christy Cookies, which I linked to above, are also very much like Doubletree's.
Doubletree Hotel Chocolate Chip Cookies
1 1/2 cups butter, softened (salted type)
1 1/2 cups granulated sugar
3/4 cup firmly packed brown sugar
4 large eggs
2 1/2 teaspoons vanilla
1 tsp. lemon juice
3 cups all-purpose flour (15 oz)
3/4 cup old-fashioned oatmeal — uncooked
3/4 teaspoon baking soda
1 teaspoon salt (increase to 2 teaspoons if using unsalted butter)
1/4 tsp. cinnamon
3 cups semisweet chocolate chips
1 1/2 cups chopped walnuts
Preheat oven to 375 degrees. Line baking sheets with parchment paper.
Place the butter in a large bowl and beat until creamy.  Add the sugars and beat on medium speed for about 2 minutes. Add the eggs, one at a time, beating well after each addition. Add the vanilla and lemon juice and mix well. In a separate bowl, stir together the flour, oatmeal, baking soda, salt and cinnamon. Add to the creamed butter mixture and stir well to blend. Add chocolate chips and walnuts and stir to combine.
Using a 1/4 cup measure or a 2-oz ice cream scoop, drop the batter on the parchment-lined pans, leaving 2 -3 inches between each cookie. Bake for 13 – 15 minutes or until lightly browned around the edges. Remove from parchment and cool on wire racks.
Related posts: